You are our Visitor
The September 18, 2018 Edition
of
The Newsleaf
Vol. 15 Issue 37
BETWEEN THE ISSUES
BACK ONLINE
I know some of you have noticed that the Newsleaf edition has been stuck on August 28 for two extra weeks. Our servers were compromised by a Spam email generator. Our access to update the Newsleaf had to be curtailed while the security of the servers was perfected.
Hope the lack of an updated Newsleaf hasn't adversely effected yours lives to drastically.
If you wish to catch up, you may go to the Past Editions icon above and download a PDF version of the last two missing issues.
FRONT PAGE
ALL AROUND US
Jim and Shirley Eckert along with Nancy Lowe spent several days in Eureka Springs, Ark. On their return trip home they spent Saturday night in Enid, OK with Ramsey and Baylee Hundley.
Earlier in the month Nancy Lowe and her daughter Susan Bonjous attended Riley Hundley's graduation from Friends University. Riley received his Master's Degree in Science and Family therapy. Riley is going to be employed with eh Manhattan school system starting This September. Riley and his wife, Sagan, will make their home in Manhattan, KS.
Nancy Lowe and Jim and Shirley Eckert recently attended the wedding of Kelsi Sheeley to Evan Engel in Overland Park, KS.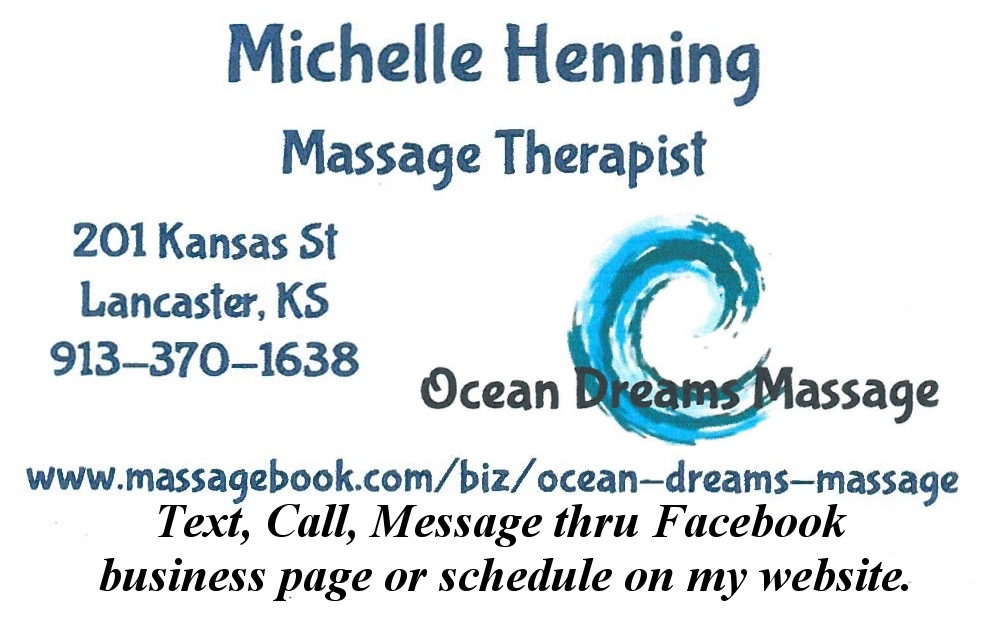 FLU SEASON IS COMING
It is the time of the year people are thinking that winter is coming and they start to make plans for it. People need to put getting a flu shot on the top of their to-do list.
In Effingham people can get a flu shot on October 4th from 10:00 a.m. to 11:50 a.m. at the Town and Country Senior Center. Please bring picture ID and insurance papers.
BIG WINNER
A stranger passing through Effingham with the carnival during the Atchison County Fair became a big winner when he purchased a winning lottery ticket according to the owner of Main Street Food & Fuel, Jody Wolters. The carnival worker spent $30 and left Effingham with $1,000. No doubt he will always have a fond memory of Effingham, KS.
Bereavement Support Group Starting
Are you grieving the loss of a loved one? Let us help. Ryan VanPeursem, Hospice Chaplain, can help you learn the healthy
ways of working through your grief. NEK Home Health and Hospice is offering Bereavement Support Group Sessions. They are free to the public at the NEK Home Health and Hospice Office, 907 S 2nd St., Hiawatha, KS every Thursday in October. (Oct. 4th, 11th, 18th, and 25th) from 7:00 to 8:00 p. m. Please RSVP by calling 785-742-1966. Refreshments will be provided by NEK Friends of Hospice
USD 377 SCHOOL NEWS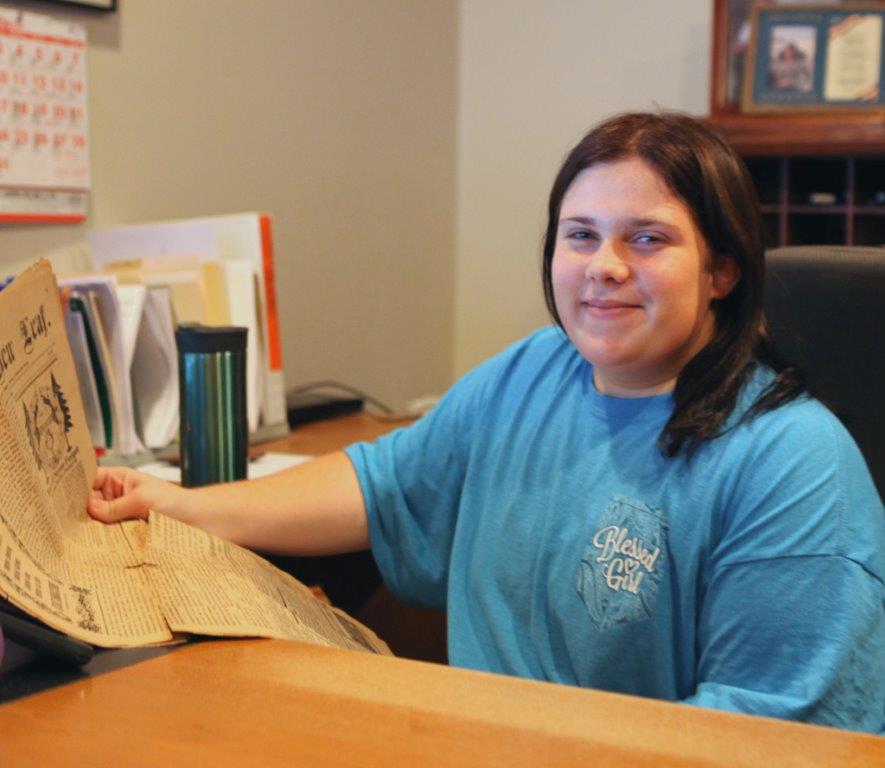 Tiger Talk ~ MaKaea Forbes
With Fall right around the corner, I asked 10th grader Isabelle Beagle, what are you most looking forward to this fall. She responded, "When the leaves fall off. Also when they turn colors." Tenth grader Hunter Grandpre said he's looking forward to "getting to wear any of my hoodies."
With the thought of the passing seasons, I asked 11th grader Kylia Henning what her favorite holiday was and why. She said, "Christmas because I get to spend time with family." Sixth grader Carmen Lahue said, "it's a tie between Easter and Christmas. I like them both because of the true meaning of those holidays and also because of spending time with my family." Kindergartener Brynn Purkis said very cheerfully, "SNOW CHRISTMAS!" When asked why, she said, "because I love snow and I get to open presents."
Monday JH Cross Country traveled to Jackson Heights. Seventh grader Renay Myers placed 3rd and eighth grader Rylie Jennings placed 3rd. Junior high volleyball at Jackson Heights, we won all the games against Jackson Heights, JCN and Pleasant Ridge. Freshman volleyball played at home. We took a tough loss against Oskaloosa and Maur Hill and won against Patton. High school JV football played Jackson Heights and came up short for the win at 34-12. Eighth grade football played at St. Benedict's. They came home with a win of 30-26.
Thursday the HS Cross Country team traveled to Hiawatha. All Tiger runners brought home medals. Victoria Caplinger placed 7th, Madison Appel placed 17th, Ashton Appel 18th, Mason Hawk 9th, Renay Myers 4th, Rylee Jennings 6th. The JH volleyball teams: A, B and C all won their matches. The JH football brought home another exciting win against Oskaloosa, 36-6.
Friday the HS football team took a very long drive to Blue Rapids, KS to take on Valley Heights. They took a hard loss with a score of 66-26.
Don't forget that Lil' Pepsters are having their sign-ups for cheer. If your little one wants to cheer at the football game on October 5th, see a cheerleader or get the form from the school. You may also contact the ACCHS Cheer sponsor, Ashley Lott at lott.ashley@usd377.org for more information.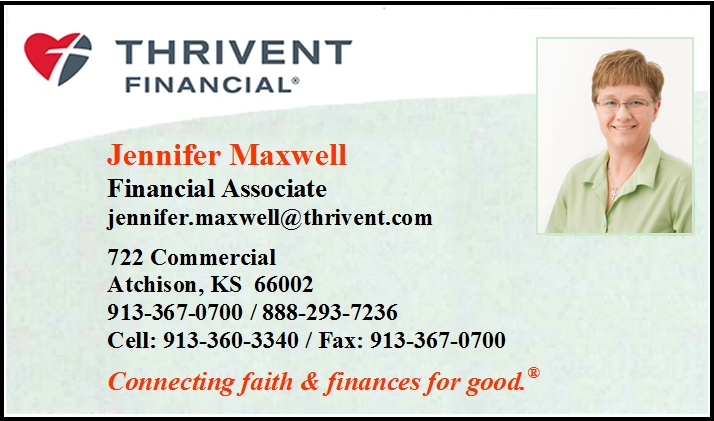 This week we will highlight seniors Matthew Oswalt and Preston Flint.
Matthew is the son of Lori Jones and the late Michael Oswalt. Matthew's favorite food is peanut butter and jelly. His favorite color is orange. Matthew states that Mr. Swafford is his favorite high school teacher because "he always made class interesting." Matthew plans on joining the military after high school, specifically the Navy. The event Matthew is most looking forward to this year is Homecoming. One interesting fact that most people don't know about Matthew is that he had a mustache in the second grade. Matthew has two pet dogs, "wiener dogs." Matthew's favorite saying is, "Dude." His favorite television show is The Office, "because it is hilarious." I asked Matthew if he could describe his life by the title of a song, what would it be, "Must Be Doin Something Right" was his reply. Matthew is active in football. If Matthew could leave one item to an underclassman he would leave, "the traditional briefcase to Tucker Smith because I think he deserves it."
Preston Flint is the son of Ronald and Katheryn Flint. Preston's nickname is Perston Flint. His favorite food is Carolina Reapers. Preston's favorite color is magenta. Preston's favorite high school teacher was Mrs. Sipp, "she's just amazing." Preston plans to go to Pitt State University for Clinical Psychology after graduation. The event Preston is most looking forward to this year is, "May 11th, 2019 Graduation Day." Preston has a cat named Tazi. Preston's favorite television show is Dragon Ball Super, "It's a better version of Dragon BallZ." Preston described his life as the song, "Mr. Blue Sky" because, "I'm a generally happy guy." Preston has played football in high school. The one thing Preston would leave behind to an underclassman is, "Don't give up. If your life is hell right now, don't stop. Who would want to stop in hell. I'd give this to my brother Matthew."
That's a wrap for this week Tiger fans!
MUSCOTAH NEWS ~ Susan Higley
Mike Snavely, long time city man for Muscotah, has turned in his resignation. With his resignation the city council has decided to discontinue the weekly trash pickup effective October 1st. Residents who now have their trash picked up on Wednesdays will have to make their own arrangements. The council will be interviewing and hopefully hiring a city man soon. Until then things may be handled differently. For an emergency you may contact Brian Higley, mayor, or one of the council members, Dale Small, Daryl Hundley, Margaret Jacobs, Dolly Wilson or Susan Higley. You can also contact Deb Liggatt, City Clerk, and she will contact someone on the council. Please bear with the city until we can get things back to normal.
Saturday, September 22nd at 5 p.m. Outreach will honor our senior citizens with a supper at the Community Building. This is an annual event sponsored by Outreach for local residents 50 and over. The menu will be fried chicken, salads, side dishes and dessert. If you are over 50 but your spouse isn't, just bring them along for an evening with good food and a chance to visit and have some fun. This supper is held to honor our area older residents and show them how important they are to our community. Please mark it on your calendar.
Muscotah United Church Youth ~ Al Schirmacher
Wednesday September 12th 6:30 PM
We initially enjoyed Dolly M Wilson's excellent tacos. Some might have eaten as many as four or five:)
Pamela Lambert Gaskell led the group in hula hoop games. We played Rock Paper Scissors hula, ring toss hula, fit whole team through hula and build a hut hula. Challenging!
Deborah Schirmacher and I led devotions. Mine was on Faith to the Moon & Beyond featuring James Irwin, Astronaut, and Abraham, Wanderer from Hebrews 12.
Monica Young Stevens and Toby Stevens ensured that each child got exactly what they wanted on their ice cream sundae while most of the dieting leaders watched in envy.
A good evening:)
ATCHISON NEWS
Tickets for Little Shop of Horrors are now on sale to the public! Shows run September 14-16 & 21-23, with performance times of 7:30 pm on Fridays/Saturdays and 2:00 pm on Sundays.
Tickets are $13 for Adults and $10 for Students. Go to http://www.theatreatchison.org/ or call 913-367-SHOW to get your tickets today. You don't want to miss it!"
Theatre Atchison, Inc.; 401 Santa Fe; Atchison, KS 66002
Business Office: 913-367-1647 Box Office: 913-367-7469
INTRODUCING OUR NEW SPIRITUAL NATURE ~ Jack Albright
It will not surprise many readers to learn that they we are all born with a nature that makes it easy to disobey God. When we disobey God we sin. Adam and Eve wanted to have as much knowledge as God so they ate the forbidden fruit and as a consequence they lost their innocence and were driven out the Garden of Eden. They passed their disobedient nature down upon all humanity. We have a natural tendency to disobey God. Therefore all have sinned and come short of the glory of God. Romans 3:23.
Nicodemus was one of the most intelligent and scholarly Pharisees of his day. He knew and practiced scriptures as perfectly as possible. His initial greeting to Jesus indicates his openness to consider new information if it could possible come from God.
His introductory statement to Jesus was, "We know that you are a teacher come from God, for no man can do the miracles you do unless God is with him." He basically said, "Jesus, I am here as a student to learn the lesson God sent you to teach me."
Jesus replied, "God's lesson for you is that you cannot see the Kingdom of God unless you are born again." John 3:3
It is understandable that being born again would be a threat to an old man who was possibly the most honored and influential religious leader in his day. A new birth for him would reduce him into a helpless infant that would cause a new beginning... a spiritual rebirth would demand from him a literal new beginning.
Nicodemus' simple response seems to be based on inferred faith, "How can that be possible? How can I be born again?"
I have shared my interpretation of this scripture with literally hundreds of people who have experienced a new birth. I pray that it will become meaningful to many readers.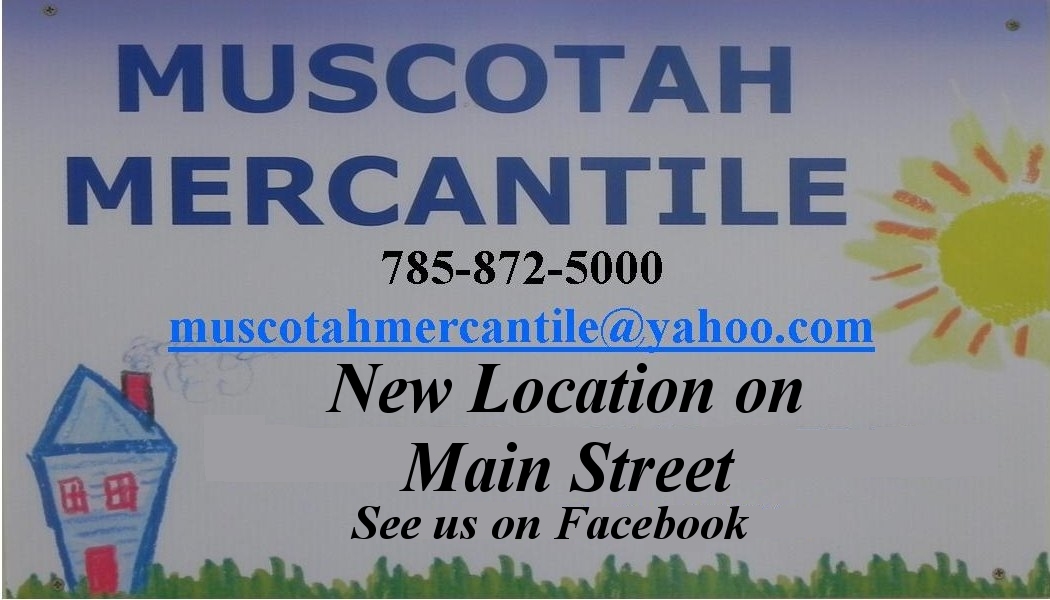 The apostle Paul later explains this mysterious new birth experience this way. "Therefore, if anyone is in Christ, the new creation has come: The old has gone, the new is here!" 2 Corinthians 5:17.
Several years ago a friend asked me to help him prepare to die. I shared the above information and then introduced him to the brief dramatic story found in Revelation 3:20. Jesus speaking, "Behold, I stand at the door and knock. If anyone hears my voice and opens the door, I will come in to him and dine with him, and he with me."
My friend opened his heart and asked Jesus to forgive his sins and enter his heart and make him a Christian. I saw his body immediately relax and he told me that Jesus had brought peace to his heart.
A few days later I visited him in the hospital before he was placed in Hospice Care. He talked freely about his new relationship with Jesus. He said "I know that something happened inside of me but can't tell you what it is or what it means. I am just peaceful."
In very simple terms I explained 1 Corinthians 6:17 to him. "But he who joins himself to the Lord becomes spiritually one with him." And then 1 Peter 2:2 "Now, like infants at the breast, drink deep of God's pure kindness. Then you'll grow up mature and whole in God."
I explained that he had been spiritually born and as a new Christian baby he would not have mature understanding.
He teasingly responded, "Jack, telling me I am a spiritual baby is not really flattering." May he rest in heavenly peace.
FROM PASTOR AL ~ Al Schirmacher
did they win
9/11 heroes
response valor sacrifice
we're rightly proud but
did terrorists win?
uncomfortable question
yet needs to be asked
we've spent trillions
on counter-terrorism
added fifty plus
restrictive bills laws
created new institutions
grieve each year this time
our land's certainly changed
for good or evil tough call
but still did they win?
they've only won if
we harden our hearts towards
Middle Easterners
or any different
from us - respond hatefully
automatically -
care too much about
our safety security -
release liberties
(others & own) far
too easily & act in fear
rather than love - then
& only then my
brothers & sisters they've won -
let's stand together
Al Schirmacher
(All in fun)
Each of us have our food likes & dislikes. We're brought up with different food preferences. We have different body chemistries. I get this. I can eat most things. But....
Some are simply inedible:
· Beets - very earthy. Mud, actually. And stains everything.
· Squash - pretty. Ornamental, even. But a food?
· Chai. Black tea is good. Earl Gray excellent. Flavored tea is, well, OK. But spicing it...?
· Eggplant. Farmer brought one over. After he left, turned to wife. "What is it?" She explained, we ate it, but still wondering.
· English biscuits. I'm a closet Anglophile. Love English writers, history, philosophy. Love scones, especially with clotted cream. But their biscuits? Even their Internet feature article uses terms like hard, dry, crisp. They forgot tasteless.
· Ghost peppers & all their relations - was never into masochism.
· Sushi - God created fire for a purpose. Use it, people.
· Beer, wine, et al - When you leave something out too long, it turns. Calling it alcohol, serving it at social occasions, doesn't make it taste good. Realize I'm in real minority here:)
And you?
Al Schirmacher
Christian friend,
Excerpt from upcoming sermon:
Satan tempts Him. He keeps going.
Lawyers question Him. He keeps going.
Religious leaders attack Him. He keeps going.
His own followers challenge Him. He keeps going.
His city causes Him to weep. He keeps going.
One follower betrays Him. He keeps going.
His emotions break down. He keeps going.
He is arrested. He keeps going.
He is crucified. Yet He keeps going.
See a trend?
Al Schirmacher
Some Day
In a surprise development, authorities meeting in Greenwich, England announce that "Some Day" has been scheduled to happen this year.
"For years", an anonymous source stated, "'Some Day' is where we've stored all those things we don't want to do. Whether it's cleaning out the back closet, bathing the dog or visiting Great Aunt Bertha, 'Some Day' has been very convenient for all of us, for it never came."
"But no longer", he continued, "for over 100 governments have met and signed a unilateral agreement here in Greenwich. 'Some Day' will now be added to the calendar as November 31st, and everyone is expected to comply by completing at least one long forsaken activity."
When asked why the urgency, leaders admitted that "Some Day" has also been used for far too long for unpaid levies & fines. "We frankly need the revenue."
Protests are expected from chapters of Procrastinators Anonymous.
If they get around to it.
LETTERS TO THE EDITOR
GRAIN EVERYWHERE ~ John Schlageck, Kansas Farm Bureau
Throughout most of the Sunflower State, fall crops wait for combines to begin harvest. Abundant rainfall during the last week of August and the first 10 days of September stopped any attempts to cut dry-land corn.
Water stands in low places in fields and ditches throughout much of western Kansas. Country roads sport ruts from the late summer rains.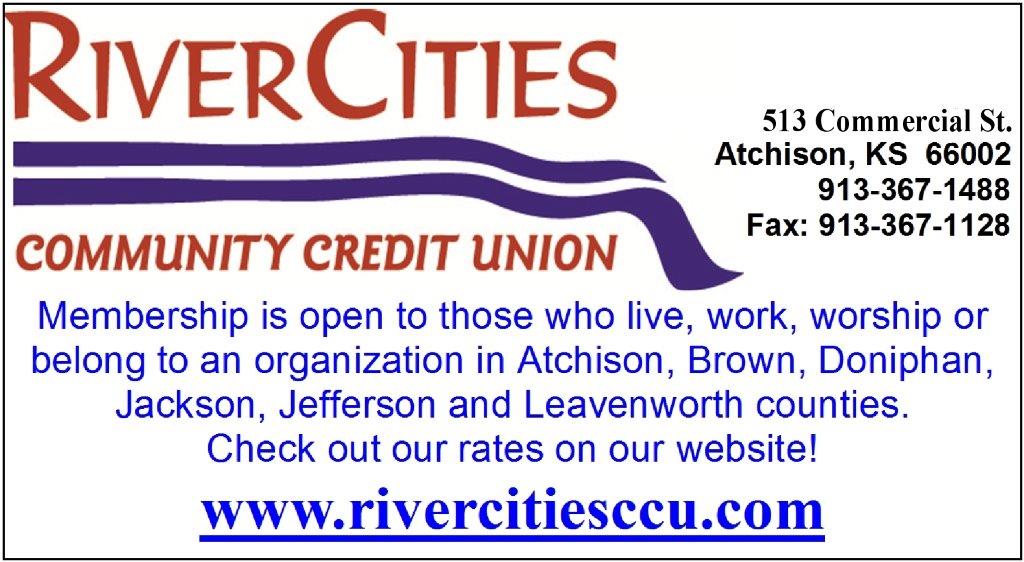 While no Kansas farmer or rancher would ever turn down moisture of any kind, this delay means most of the fall corn, milo and soybeans may be all ready to harvest at the same time. This in turn could lead to a busy, hectic 2018 harvest with all farmers scrambling to harvest their grain before the weather turns to winter.
"By this time, we'd normally be in the fields harvesting dry-land corn," says Ryan Reed, Gray County. "But I can't bring myself to complain about the rain we've received. When it's wet, it's always better than the alternative."
Reed farms with his brother in Gray, Haskell and Kiowa counties. The brothers represent the fourth generation to farm in southwest Kansas.
While they once farmed a third milo, wheat and summer fallow rotation, the last few years, they've flexed their dry-land and irrigated acres based on economics and moisture conditions. During the last 20 years, the family farm continues to transition from irrigated to dry-land farming.
Like so many southwestern Kansas farmers, the Reeds have been suffering from lack of moisture, and in some cases severe drought, since 2005. That said, they really appreciate this turn of weather fortunes. They'll find a way to work around the moisture and prepare to go full-tilt boogey when fields dry out.
Still, with so much of the cropland saturated, wheat drilling season may also be delayed or shoehorned in during fall grain harvest. The Reeds normally shoot for the first week of October to begin wheat drilling. This year Ryan can only hope to find time to plant his wheat.
"Each fall we try to harvest all our crops and plant our wheat by Thanksgiving," he says. "That's always our goal, but this year it'll be a mad dash to finish by the end of November."
Expectations on the Reed farm remain high once the fall grain harvest kicks into high gear. Stands look outstanding. They've managed to control aggressive weed pressure brought on by the abundant rain. Now all they need is dry weather to combine the corn, milo and beans.
"We're cleaning our bins like we intend to fill them up," Ryan says. "Grain storage will be at a premium once the machines begin to roll."
Fortunately, the Reeds maintain a massive storage facility on their farm. Unless it's a bin buster beyond their expectations, they should have adequate room in their bins.
Like their neighbors and farmers across Kansas will tell you, the Reeds "never look a gift horse in the mouth." This late summer's rain trotted across much of the Sunflower State and crop producers will find a way to work around the wet spots while dreaming about newly planted wheat with plenty of subsoil moisture to propel it into 2019.
They're mighty thankful.
John Schlageck is a leading commentator on agriculture and rural Kansas. Born and raised on a diversified farm in northwestern Kansas, his writing reflects a lifetime of experience, knowledge and passion.
Kansas Voters Do Not Want A Tax Increase To Appease The Court's Demand For More School Funding.
Poll released today reveals a stark disconnect with schools and voters about how local school administrators are actually spending money.
Sept. 10 - Wichita - Legislators heading to Topeka are going to have to find a way to address a 3 billion-dollar shortfall due to a massive school funding increase brought about by the Kansas Supreme Court. However, a newly released poll, conducted on behalf of Kansas Policy Institute by SurveyUSA, found that 51% of Kansas voters do not want their legislators to add another $365 million dollars to comply with the court's demand; only 39 percent said funding should be further increased.
James Franko, vice president, and policy director of Kansas Policy Institute remarked, "Low-income kids are more than two years' worth of learning behind their more affluent peers and overall achievement in Kansas is depressingly stagnant. These achievement trends are especially discouraging because the Department of Education says we're on track to soon spend over $15,000 per pupil on education. Voters clearly want that level of investment to improve achievement with accountable and efficient schools."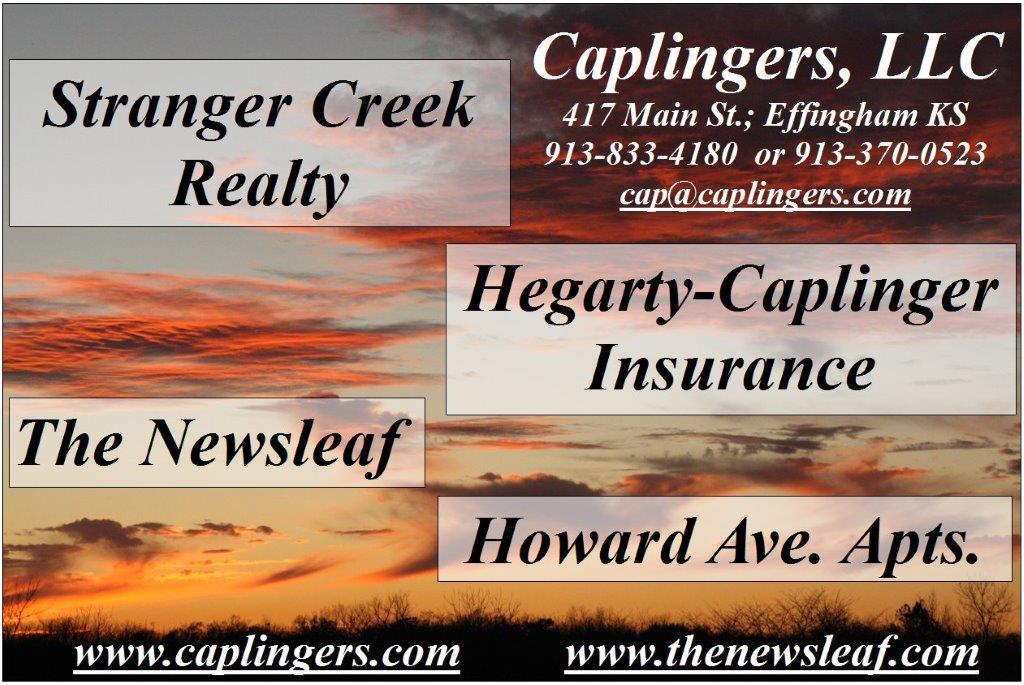 See full poll results and methodology here.
Kansas voters are growing increasingly concerned about high education administration costs at the local level. A survey last year found that 78 percent of voters believe spending on out-of-the-classroom costs (administration, building operations, transportation, etc.) should be provided more efficiently on a regionalized basis, with the savings put into the classroom. In the poll released today, the number jumped to 89 percent of Kansas voters who would like to see more efficiency within their school system.
Franko observed, "The more voters seem to understand the reality of our achievement crisis and the increasing costs of education in Kansas the more they seem to rethink how education decisions are made."
Calculations by Kansas Legislative Research Department show $3.7 billion revenue shortfall exists over the next four years to pay for approved and proposed school funding increases. With many assurances being made throughout the campaign cycle about school funding being met without raising taxes, legislators will be forced to specifically identify how this massive shortfall will be met. According to the newly released data, only 37% of Kansas voters are willing to pay higher taxes to close the $3 billionshortfall caused by school funding.
The latest polling data revealed that a startling number of Kansans voters are in the dark about education spending trends in Kansas. According to the SurveyUSA data, only 10% of Kansas voters understand what our Kansas school districts currently receive from taxpayer sources per student, and that has a major impact on their opinions. For example, 93 percent of those who oppose a constitutional amendment to prevent courts from setting funding levels either don't know how much schools receive or they believe it's less than $10,000 per-pupil; only 7 percent of the opposition comes from voters who think funding is over $10,000 per-pupil. Similar disparities exist within voters' willingness to pay higher taxes and whether additional funding should be provided.
Franko concludes, "Just like last year, roughly 60% of Kansas voters say they want to revisit how education funding decisions are made in the state. The Kansas Constitution vests all political power in citizens and those citizens seemingly understand that they, and their elected representatives, are best-suited to decide state spending priorities."
Kansas Policy Institute engages citizens and policymakers with research and information to enact public policy solutions that protect the constitutional right to freedom of all Kansans, give them greater access to better educational opportunities, and allow them to keep more of what they earn. By protecting and promoting freedom, we will improve everyone's quality of life, make Kansas more competitive with other states, and attract new citizens and businesses.
To speak with Kansas Policy Institute, please contact Ellen Janoski (316) 634-0218
OBITUARIES
Angela Mary Hegarty, 80, passed away peacefully to be with her Lord and Savior, Jesus Christ, on September 17, 2018, surrounded by her family.
Mass of Christian Burial will be 9:00 am, Saturday, September 22, 2018 at St. Ann's Catholic Church, Effingham, KS with Abbot James Albers, OSB as Celebrant. Burial will follow at St. Ann's Catholic Cemetery. Angela will lie in state at the Becker-Chapel, Effingham on Friday, September 21, 2018 from 9:00 am to 4:00 pm. A parish rosary will be recited at the church at 6:30 pm with visitation to follow until 8:30 pm. In lieu of flowers memorial contributions are suggested to St. Ann's Catholic Church and may be sent in care of the Becker-Dyer-Stanton Funeral Home. Condolences to the family may be left online at www.beckerdyer.com.
She lived a full and content life. She was the fifth child of Matthias & Elizabeth (Theis) Sittenauer. She was born and grew up in Atchison, KS. She attended Mount St. Scholastica Academy in Atchison, graduating in 1955. She married her beloved Eugene C. Hegarty on March 5, 1957. Her first child Mary Janelle was born that year on Christmas day. She had two more Christmas children, which made Christmas time very special in the Hegarty household. In addition to Janelle (Ken Kranz), she gave birth to Michael Eugene (Cathy), Mark Clarence (Janelle), Timothy Charles (Stephanie), Sandra Ann (Mike Engeman), and Terrence John (Rebecca), all of whom survive.
She also leaves behind twenty-six grandchildren, eight great grandchildren, one brother George Sittenauer, three sisters, Betty Albers, Mary Kay Harris and Judy Curtis, two sisters in law, Shirley Cole and Sharon Hegarty, and countless friends from both Effingham, where she lived with Gene most of her life, and Atchison. Gene preceded her in 2013 as did brothers Charles, Gene
and Ken, and infant James. Gene and Angela were life-long devoted parishioners at St. Ann's Catholic Church in Effingham, a parish they loved dearly.
Clarence Oswald, of Effingham, has passed away this week. As of this writing the details for the services are pending. Becker-Dyer-Stanton Funeral Home is handling the arrangements.
GOVERNMENTAL NEWS
Unapproved Minutes of the September 11 Meeting of the Atchison Co. Commission
Pursuant to the law, the Atchison County Commission Board met in Regular Session at 1:00 PM on the 1st floor of the courthouse, 423 N 5th St. Atchison, KS. Chairman Eric Noll called the meeting to order with Commissioner Henry W. Pohl, and County Counselor Patrick Henderson present for the meeting. Commissioner Jack Bower was absent. Deputy County Election Officer, Kalee Vanderweide recorded the minutes.

The Board recited the pledge of allegiance to start the meeting.
Chairman Noll called for a moment of silence for September 11. We want to remember all who lost their lives 17 years ago and keep everyone in our thoughts and prayers.
Minutes of the September 4, 2018 meeting were reviewed with one correction noted; to change Toad to Road under the Commissioner Comments and Committee Reports in the first paragraph. Commissioner Pohl made the motion to approve the minutes. Chairman Noll seconded the motion. Chairman Noll called for a vote, all voted aye. Motion carried 2-0.
*Commissioner Comments and Committee Reports:
Commissioner Pohl mentioned that the Northeast Kansas meeting is on Friday, September 7, 2018, at 9:00 am in Leavenworth.
Chairman Noll stated he had a meeting Friday afternoon, September 7, 2018, with the Ambulance Advisory Board. Corey Scott, Emergency Medical Director, had one of the new power cots installed and gave a demonstration of how the power cot works. The ambulance service had to change billing service. The billing service they were using went bankrupt.
Chairman Noll stated he had a County Health Meeting on September 3, 2018, in Hiawatha. The new board member from Atchison County, Sherri Boos, was installed.
*New Business Before the Board:
Jamie Madison, HR Director, gave a purchase order, on behalf of the Wellness Committee, for a new ice and water dispenser for in the courthouse, for $3,638.54. This should be reimbursable through a grant from Live Well Live Atchison. Commissioner Pohl made a motion to accept the purchase order for $3,38.54. Chairman Noll seconded. Chairman Noll called for a vote, all voted aye. Motion carried 2-0.
The board was presented with a proclamation request dated September 11, 2018, proclaiming September as Childhood Cancer Awareness Month. Commissioner Pohl moved to accept the proclamation. Chairman Noll seconded the motion. Chairman Noll called for a vote, all voted aye. Motion carried 2-0.
*Old or Unfinished Business Before the Board:
The tax sale is still being worked on. Service of process is still being worked on for everyone who needed the service of process.
Bills were presented to be signed.
Commissioner Pohl made a motion to adjourn at 1:17 pm. Chairman Noll seconded the motion. Chairman Noll called for a vote, all voted aye. Motion carried 2-0.
*Note: Once approved these minutes will be the official minutes of the Board of County Commissioners. Regular meetings of the Board of County Commissioners are video-recorded.
The video of these meeting is generally available for supplementation of the minutes. The videos can be located under the Government tab at www.atchisoncountyks.org.
Attest: Kalee Vanderweide, Deputy County Election Officer
277 crime victims to receive support
TOPEKA – (September 14, 2018) – The Kansas Crime Victims Compensation Board yesterday awarded financial assistance to 277 victims of violent crime at its September meeting, Kansas Attorney General Derek Schmidt said.
Awards were made in 123 new cases. Additional expenses were paid in 154 previously submitted cases. The awards totaled $261,749.38.
The Division of Crime Victims Compensation in Schmidt's office administers the Crime Victims Compensation program, which was established in 1978 to help victims of violent crime pay for their unexpected expenses such as medical treatment, mental health counseling, lost wages, dependent support and funeral expenses.
The state's three-member Crime Victims Compensation Board determines claims that are eligible for payment and how much money will be awarded to each claimant. Awards are limited to a maximum total amount of $25,000 with limitations of $5,000 for funeral expense, $5,000 for outpatient mental health counseling, $10,000 for inpatient mental health treatment and $1,500 for grief counseling for family survivors of homicide victims.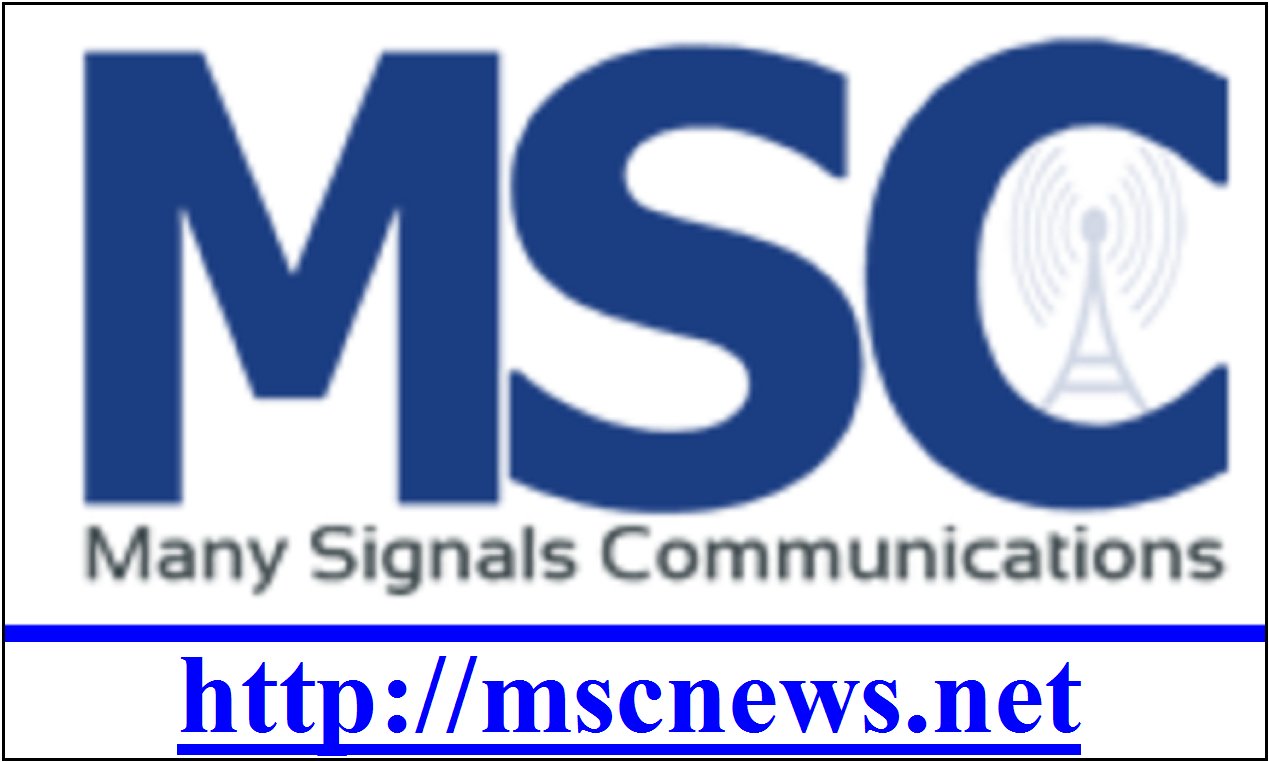 A portion of assessed court costs and fines, inmate wages, parole fees and restitution paid by convicted offenders provides funding to the program.
For more information about the Crime Victims Compensation program call (785) 296-2359 or visit the attorney general's website at www.ag.ks.gov.
Man Sentenced To Life In Prison For Tescott Murder
MINNEAPOLIS – (September 13, 2018) – A Maine man was sentenced today to life in prison after being convicted by a jury of first degree murder and related crimes in Kansas, Kansas Attorney General Derek Schmidt said.
Robert Willard Colson, 35, of Bucksport, Maine, was sentenced by Judge Rene Young to life in prison without the possibility of parole for 25 years. In June, an Ottawa County jury found Colson guilty of one count of first-degree felony murder, two counts of felony theft and one count of burglary. The charges stemmed from the 2017 death of Matthew Miles Schoshke in rural Ottawa County.
The case was investigated by the Kansas Bureau of Investigation and the Ottawa County Sheriff's Office with assistance from the Kansas Highway Patrol and law enforcement agencies in Maine, Colorado and California. Assistant Attorney General Jessica Domme of Schmidt's office prosecuted the case with assistance from Ottawa County Attorney Richard Buck.
AG Applauds New Justice Department Oversight Of Asbestos Trusts
TOPEKA – (September 14, 2018) – New federal oversight of asbestos trusts as recommended by state attorneys general will inject much-needed transparency and ensure that funds are properly used to support victims of asbestos exposure, Kansas Attorney General Derek Schmidt said today.
Schmidt applauded new efforts by the U.S. Department of Justice, which has said it will inject itself in legal cases that propose to establish new asbestos trusts to ensure that the trusts are transparent and have safeguards against fraud. The Department will also ensure that trust assets are kept available for victims and to reimburse taxpayers for the medical costs paid for victims' illnesses, not used to pay excessive attorneys fees and administrative costs.
This new commitment from the Department came in response to a letter sent last year to U.S. Attorney General Jeff Sessions by 20 state attorneys general, including Attorney General Schmidt, asking the Department to increase its efforts to oversee these trusts.
Schmidt received a response to that letter yesterday from Acting Associate Attorney General Jesse Panuccio, outlining the Department's new efforts. A copy of Panuccio's letter is available at http://bit.ly/2Onrxt6. A copy of the attorneys general's 2017 letter is available at http://bit.ly/2CXFRrc.
AG Urges Congress To Reauthorize The Violence Against Women Act
TOPEKA – (September 17, 2018) – Kansas Attorney General Derek Schmidt today joined a unanimous group of state, territory and the District of Columbia attorneys general in urging Congress to reauthorize the Violence Against Women Act (VAWA).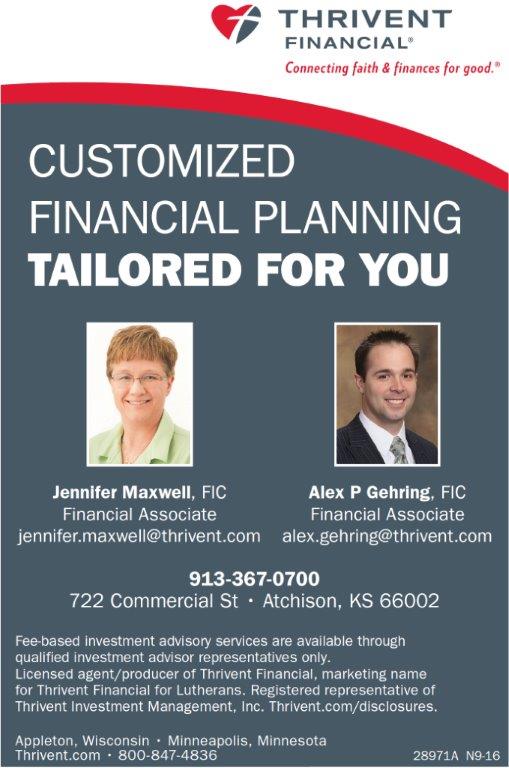 The attorneys general sent a letter earlier today to congressional leaders and the chairs of the U.S. Senate and House Judiciary Committees asking lawmakers to vote soon to reauthorize VAWA, as the current short-term extension is set to expire in December.
"VAWA has substantially improved access to advocacy, health care, and legal services, but unfortunately, violence against women remains prevalent in all communities," the attorneys general wrote. "Every aspect of our society — rural, suburban, urban, and our tribal communities — has all been impacted by the painful effects of violence against women. Yet, the work to eradicate sexual and intimate partner violence is far from complete. Congress must act swiftly to re-authorize VAWA to maintain the essential tools so necessary to support survivors and reduce the frequency of these senseless acts of violence."
Since VAWA was passed in 1994 more than $6 billion in grant funding has been awarded to government and nonprofit organizations nationwide. The grants have funded training and assistance to address and reduce domestic violence, dating violence, sexual assault and stalking. The grants have also funded resources and services to assist survivors, prosecute offenders and facilitate partnerships between prosecutors, judges, advocates, community organizations and health care providers.
The letter was signed by all 56 state, territory and District of Columbia attorneys general. A copy of the letter is available at https://bit.ly/2OtH0Io.
Dickinson County Roofer Temporarily Banned From Doing Business In Kansas
TOPEKA – (September 17, 2018) – A Dickinson County roofer has been temporarily banned by court order from doing business in Kansas while a lawsuit alleging violations of consumer protection laws is pending, Kansas Attorney General Derek Schmidt said today.
Glenn Decker, of Enterprise, who does business as Decker Construction, is temporarily banned from doing business in Kansas. District Judge Ryan W. Rosauer entered a temporary restraining order last week in Dickinson County District Court prohibiting Decker from acting as a roofing contractor in the state.
The lawsuit alleges that the defendant took payment from a Dickinson County consumer for roofing services but failed to perform adequate work, requiring the consumer to hire another contractor to finish the job. The defendant also allegedly failed to register as a roofing contractor with the attorney general's office as required by law. If proven, the allegations would constitute violations of the Kansas Roofing Registration Act (KRRA) and Kansas Consumer Protection Act (KCPA). The case is Dickinson County District Court No. 2018-CV-85-OT. A copy of the attorney general's lawsuit and temporary restraining order are available at www.ag.ks.gov/roofer-enforcement.
Schmidt reminded consumers to make sure roofing contractors are properly registered before signing any contract or having any work done. Consumers should request a copy of their roofer's registration certificate and then should check the attorney general's consumer protection website at www.InYourCornerKansas.org to confirm that the roofer's registration is in good standing.
MISCELLANEOUS PRESS RELEASES
KDA Participates in Trade Mission to Peru
MANHATTAN, Kan. — In late August, the Kansas Department of Agriculture participated in a trade mission to Peru, where the team promoted U.S. grain through seminars and meetings with some of the largest end users in Peru. The seminars were organized by the USDA Foreign Agricultural Service and U.S. Grains Council.
The team representing Kansas on the trade mission included: Pat Damman, Pat Damman Farms; Thad Geiger, Geiger Farms; Jerry and Sue Long, Long Farms; Max Tjaden, Tjaden Farm; Earl and Barbara Roemer, Nu Life Market, LLC; Amy France, France Family Farms; Kyler Millershaski, MK Farms Inc.; and Suzanne Ryan-Numrich, KDA international trade director.
Millershaski and Roemer had the opportunity to share about corn and sorghum production practices in Kansas. Other topics covered at the seminars and meetings included livestock nutrition as well as export shipping and logistics.
"While things are getting sorted out on the Hill, it puts tremendous pressure on agricultural organizations to start new conversations," stated France. "It's humbling and challenging to work on behalf of the U.S. farmer. I look forward to seeing how relationships grow between the U.S. and Peru."
Historically, Peru has been a strong customer for Kansas grain farmers. In the past five years, Kansas has exported over $186 million in goods to Peru with the top export being cereal grains, primarily corn.
"While in Peru, the team was able to meet with two of the largest end users of corn. Both had recently started using distillers' grains in their feed rations and were pleased with their results," said Ryan-Numrich. "Peru is a very price sensitive market and both companies shared their plans to purchase grain sorghum from the U.S. when the price is right."
The trade mission was organized by KDA, USDA FAS and the U.S. Grains Council. It was funded through a cooperative agreement with the U.S. Small Business Administration using a State Trade Expansion Program (STEP) grant. KDA strives to encourage and enhance economic growth of the agriculture industry and the Kansas economy by exploring and expanding both domestic and international marketing opportunities. The Kansas Ag Growth Project identified both corn and sorghum international market development as key components for state growth. For information on this or other international trade missions, please contact Suzanne Ryan-Numrich at suzanne.numrich@ks.gov or call 785-564-6704.
JOHN JACOBSON, ATCHISON, AWARDED BY KANSAS HOSPITALS
The Kansas Hospital Association is pleased to announce that the 2018 recipient of the Donald A. Wilson Visionary Award is John Jacobson, chief executive officer of Atchison Hospital in Atchison.
KHA established this award to recognize outstanding, innovative contribution to health care delivery, health care financing or other initiatives that improve the health and clinical outcomes in a community. The Donald A. Wilson Visionary Award provides members of KHA the opportunity to recognize individuals who have been a change agent in the hospital industry.
John Jacobson has worked in the health care industry since 1973. In 2004, he took the position of CEO at the Atchison Hospital in Atchison. During that time, he has been a champion of many things, but has been a true visionary of population health initiatives in Atchison.
Photo caption: Tom Bell, president and CEO of the Kansas Hospital Association, Don Wilson, past president of KHA, and Bob Page, KHA board president and president and CEO of The University of Kansas Health System, present John Jacobson, chief executive officer of Atchison Hospital with the Donald A. Wilson Visionary Award.
Kansas Soybean Commission Requests Proposals;FY '20 Funding Decisions to Be Made in December
The Kansas Soybean Commission (KSC) is requesting research and education proposals for its fiscal year 2020, which begins July 1, 2019. Proposals are due Oct. 15, and an individual may be listed as the principal investigator or educator on only one. The commissioners will review ideas for breeding, production and environmental programs; animal- and human-nutrition or food-safety studies; commercially significant, value-added projects that will use large quantities of soybeans; and domestic or international marketing and transportation programs.
More information about KSC's priorities, complete instructions and application forms are available at http://KansasSoybeans.org/forms on the web or by calling the Kansas Soybean office at 877-KS-SOYBEAN (877-577-6923). Proposers who gain preliminary approval from the commissioners will make formal presentations Nov. 29-Dec. 1 in Topeka or via teleconferencing.
The three-day funding meeting will begin at 8 a.m. each day. The commissioners also will discuss current projects, market-development activities, educational programs and administrative items. To obtain a complete agenda or to suggest additional topics for deliberation, contact KSC Administrator Kenlon Johannes at johannes@kansassoybeans.org or at the office.
Raising Vegetables on the High Plains Reaps Rewards and Presents Challenges By Jennifer Kongs
First in a series of five farmer feature profiles distributed by the Kansas Rural Center
Dave Svaty has farming in his family's roots. He grew up on a farm down the road from where he and his wife, Connie—along with his son, Caleb and his family—are tending cattle, pigs, sheep, and vegetables growing in fields and inside hand-built hoop houses near Kanopolis, Ks. in Ellsworth County.
Dave and Connie have raised livestock and sold vegetables from a roadside stand for more than 25 years. Dave, who has a degree in Agronomy from Kansas State University, started working 17 years ago at the local co-op to provide a source of steady income. Three years ago, Dave left the co-op job and at about the same time, his son also lost his teaching job. Connie continues to work as a teacher's aide, largely to keep the family covered with health insurance. The Svatys wanted to try making the combination of meat and increased vegetable production a go, with a focus on high-value crops, like tomatoes, grown in hoop houses. KRC visited Svaty's Produce on March 30, a muddy, blustery day, to learn more about their operation and get a tour of their production.
The Svatys have been able to expand their operation and create a unique setup with ingenuity and DIY skills. Dave custom-built his farmers market trailers to pull behind a truck. The wooden frame features a drop-down side that holds flat crates of produce; a walkway where the Svatys stand to sell from; a spot for a freezer to hold the meat; and large bins for melons, potatoes and other larger, heavier crops. The produce is held at eye level for the customer and everything is easily accessible by the person handling sales at market that day. Dave and Caleb liked the first one so much, Dave built a second one, so they could both have one at each Saturday market where they are vendors.
For the folks who want the on-farm experience, the family built a shop on-site, with customer-friendly reach-in coolers, a walk-in cooler for crop storage, and shelves and boxes for produce sales. The investment, Dave says, would be worth it to save the driving time to multiple markets each week, and of course, the family hopes for added income from the set daily operating hours of 3 to 7 p.m. on weekdays. The space also has a back room, which has already provided value in getting the produce-washing and storage out of their house. Before the building, washing, storage and prep on Fridays before the big Saturday markets all happened inside Dave and Connie's home, where she bakes and packages homemade kolatches by the tens of dozens for market sales.
Dave and Caleb have been smart about how they re-purpose materials and incorporate made-to-fit solutions for season-extension and crop protection. For example, the calving barn is built with bridge planks Dave bought from the county. He moved an unwanted wooden hoop house frame from Ellsworth high school, which came complete with plastic covering. When their second hoop house, which has gone through four seasons, kept losing its plastic covering, Dave boxed in the ends with wooden frames to keep the hoop house together better. Turns out, wind is often a specialty-crop farmer's most challenging nemesis. The shape of the hoop house has other shortcomings: "I made a mistake in buying a round hoop house. I should have bought one with sidewalls, because I can't get in close enough along the sides with equipment," Dave says in retrospect.
Dave has built a lean-to greenhouse onto his home, heated with the home's old woodstove. "I came home one night, and told my wife I was going to build a greenhouse. So, I dug this space with a skid loader."
When I visited, the greenhouse was full of green, growing life. Because of a previous year's infection, the family now primarily raises tomato varieties resistant to tomato spotted wilt virus, including 'Mountain Glory' and 'Skyway 687.' They are trying some varieties—especially cherry tomatoes—that are not resistant, such as 'SunGold,' because of their popularity with customers. The greenhouse held dozens of flats filled with starts of tomatoes, sweet peppers, hot peppers, cauliflower, cabbage, broccoli, Brussels sprouts, celery and herbs. Once I left, he was planning to plant three colors—red, yellow and orange—of seedless watermelons on electric heating mats to keep the soil warm enough for germination.
There are also fig trees in buckets in the greenhouse that Caleb and Dave are planning to experiment with based on expertise from a fellow farmer in New York. Caleb, his father says, connects to other growers online who are also trying unique setups around the country. I joked with Dave about him being cutting edge, and he smiled, but readily reminded me it was Caleb who was making the new connections.
The farm's growth and diversification has not come without its struggles. "The first year was great. The second year, we lost all of our tomatoes to tomato spotted wilt virus. We have also lost tomatoes after uncovering them to spray drift," Dave says. Their history with a nearly complete crop failure caused by TSWV is why the family emphasizes TSWV-resistant varieties for their tomatoes and peppers.
After losing the tomato crop two years ago, Caleb needed to take on off-farm job working on wind turbines. "He has three kids, and we had nothing to fall back on, so he had to get a job for security. He wants to farm and he has a space, and we have markets to go to, but you need health insurance and you need steady income, and you can't do that as a starting specialty crop farmer," Dave says.
The family still raises close to 60 acres of conventional wheat and soybeans, accounting for an estimated 20 percent of the family's farm income. Dave says the farm gets better returns on the vegetables than the meat, especially the lamb and chicken. The pork and beef, largely because they are more popular meats in his area, have higher profit margins. The family has about 200 head of sheep, a dozen cattle and fewer than 10 hogs.
Dave has his concerns for the future of vegetable farming. One is FISMA, the Federal Information Security Modernization Act, and how to update to meet all of the requirements, especially regarding his family's combination of livestock and vegetables. His lambing barn, which is separated by a barrier wall but connected under one roof with a growing spot for early greens to take advantage of the animals' heat, would likely be forbidden.
"I'm an exemption, but we try to be up to speed. It is overwhelming, some of the specific rules and the amount of written documentation that would be required. My wooden picking crates wouldn't be allowed, I couldn't let my dog go into the field with me when I pick, but we have rattlesnakes and I want my dog with me."
Dave also wonders whether having multiple weekday markets in different parts of town — rather than a concentrated time in one spot — is best for farmers' sales. The most economical setup for where and when to hold markets is a commonly discussed direct-sale farmer struggle. "In summer, we saw more foot traffic to the farm store, which is ideal for us, but winter has been harder," Dave adds.
He worries about new farmers getting started, and existing farmers adding or diversifying their operations, with the heavy financial burden associated, given the current structure for financing and health insurance. Working without a fall-back, as he is now, leaves "no margin for error" with the growing and marketing.
When asked what changes could help his farm be more successful, Dave responds that he feels strongly that the sales tax on food should be eliminated, for the sakes of both farmers and consumers. "It is difficult to track, and compared with neighboring states, we're putting a tax on poor people trying to buy groceries."
He also recognizes a need for a better system to protect against drift for sensitive crops. "I have neighbors that do their best to be careful, but even on windless days, we see the damage." He also suggests that when feedlots or other concentrated operations move in nearby, that the specialty crop farmers who need clean water be protected. As his farm shows, there are multiple ways to grow food and build livelihoods through agriculture in Kansas, and he would like to see them all treated with equal protection.
Despite his concerns, as we walked through the fields, Dave's love of growing food and raising animals was tangible. He proudly pointed out the field planted days before with 2,200 pounds of potatoes (he named the dozen or so varieties off the top of his head); his sandy soil that grows juicy melons; and the baby lambs he has protected with their mamas in the barn.
Dave shared new ideas he wanted to test this year—clearly skilled at coming up with unique solutions to the various challenges farmers face. He spoke of incorporating oats as a cover crop before planting melons; a new method for stringing and covering tomatoes he's keen to experiment; harvesting asparagus throughout the year; and more. When he spoke of challenges, he appeared distraught and overwhelmed by handling the bulk of the work solo, as if he were watching the end of an era. But, while visiting the farm, it's hard to see anything but hope and potential while watching the lambs bounce, listening to the calves call, and passing through the warming hoop houses filled with new life.
Jennifer Kongs is a freelance writer with Bark Media in Lawrence, Ks. who produced this story as part of KRC's Specialty Crop Block Grant funded by the Kansas Department of Agriculture through USDA's SCBG Program.
Svaty and his market trailer:
Svaty built a market trailer with a drop-down side that holds flat crates of produce; a walkway where the Svatys stand to sell from; a spot for a freezer to hold the meat; and large bins for melons, potatoes and other larger, heavier crops.
In late March, Svaty's hoophouse featured fresh greens and onions ready for market.
RETURN OF PRAIRIE DOGS AND ASSOCIATED WILDLIFE
As we announced earlier this summer, Audubon of Kansas (AOK) has led a partnership of dedicated individuals and organizations to rescue and relocate hundreds of prairie dogs from Nebraska's easternmost prairie dog colony in Fillmore County to the Hutton Niobrara Ranch Wildlife Sanctuary in northern Nebraska. These prairie dogs were stranded on land willed to Doane University, which was sold and transformed from native prairie to soybeans and corn. See our previous report here: https://conta.cc/2LeyQlt
At the end of August, AOK and Nebraska Wildlife Rehab Inc. (NWHI) relocated the last of the prairie dogs, bringing an end to a highly successful rescue and relocation effort. This story, however, is far from over as these intrepid animals adapt to life on the Sanctuary, supporting a diversity of other species. Continue reading our latest news and update on the project below, also featured in a new video by Dave Kendall titled "Return of Prairie Dogs and Associated Wildlife."
Return of Prairie Dogs & Associated Wildlife by Dave Kendall
With your support, AOK will also continue to fight for the conservation of prairie dogs and associated wildlife, as well as the right of landowners throughout the central Great Plains to protect and conserve these native species on their land.
Relocation of the last 47 prairie dogs to the Hutton Niobrara Ranch Wildlife Sanctuary from the former prairie research site on land previously owned by Doane University was accomplished over the weekend of August 25-26. All prairie dogs were juveniles captured in traps in June from the land that was sold and converted to cultivation.
The juveniles had been held and cared for by staff and volunteers with Nebraska Wildlife Rehab Inc. (NWHI) to give them an enhanced opportunity to survive following release in the previously established prairie dog colony on the sanctuary. The Sanctuary colony was initially established in 2012 by Audubon of Kansas (AOK) with capture and relocation of prairie dogs from the Fort Niobrara National Wildlife Refuge. AOK owns and manages the 5,000-acre wildlife sanctuary in Rock County.
This year, in early July, the first group of 176 prairie dogs from the Fillmore County site were released on the sanctuary. They included adults and extended family groups of prairie dogs (called coteries). Many were marked with black dye and observations indicate that they have successfully settled in within the prairie dog colony at the sanctuary that was previously established on a 15-acre site.
The relocated prairie dogs were marked with a hair dye so they can be identified and monitored, hopefully demonstrating survival in their new surroundings. They were then placed in above-ground cages connected to the underground "nest" boxes and retained in this secure facility for about a week. Photos by Ron Klataske.
Prairie dogs are keystone species. That means they contribute to the existence and/or abundance of many other species of wildlife that benefit from their burrows, from the closely-clipped vegetation, and from the presence of prairie dogs as a food source. Burrowing Owls nest in their burrows and feed on grasshoppers and beetles. Golden Eagles, Ferruginous Hawks, Swift Foxes, Badgers and Black-footed Ferrets (in rare instances where this federally endangered species has been reintroduced) and many other species prey on prairie dogs.
"Starter burrows" dug with a tractor-mounted post-hole digger were employed in the earlier release. However, for the release at the end of August, secure 2'X2' wooden "nest" boxes were built by a volunteer with NWHI. Eight were placed at a depth of four feet underground. Each has two tubes serving as burrows extending to the surface. An above-ground cage contained the prairie dogs for the first week while they became familiar with their new home. This strategy was developed by the Prairie Dog Coalition located in Boulder Colorado.
Eight wooden "nest" boxes were buried four feet underground, each with two PVC duct hoses extended to the surface. They were installed to accommodate and provide security for the 47 juvenile prairie dogs brought to the sanctuary on August 25. The above ground cages provided an opportunity for the prairie dogs to become familiar with the new colony site. Photos by Ron Klataske.
Audubon of Kansas is a leading organization assisting landowners and other stakeholders with management and conservation of prairie dogs and associated wildlife in the central Great Plains. So far in 2018, AOK has supported landowners in Kansas and South Dakota with challenges presented by misguided county officials who have tried to impose eradication on private land. Your support is vital to our leadership and continued efforts.
WILDLIFE AND PARKS REPORTS
Historic Lake Scott State Park To Host Youth Day
SCOTT CITY – Live snakes, shotgun and BB gun instruction, and 3-D target archery shooting are all on the agenda for the 2018 Southwest Kansas Youth Day at Historic Lake Scott State Park on Sunday, Sept. 23. All youth ages 16 and younger are invited to enjoy the outdoor skills instruction and demonstrations from 9 a.m. to 2 p.m. Historic Lake Scott State Park is located 11 miles north of Scott City, 101 West Scott Lake Drive, 67817.
Lunch will be provided, and registered participants will get a free event t-shirt.
A variety of prizes will be given away during the day, including mentored hunts, shotguns and pellet guns for youth ages 9-16, and a separate set of prizes for youth ages 9 and younger.
For more information, and to register for this event, contact Manuel Torres at (620) 966-8570 or by e-mail at manuel.torres@ks.gov.
The event is made possible by Extreme Fowl, Pheasants Forever and the Kansas Department of Wildlife, Parks and Tourism.
America's State Parks Directors Honor The Nature Conservancy of Kansas
TOPEKA - The National Association of State Park Directors (NASPD) recently honored The Nature Conservancy of Kansas (TNC) with its 2018 President's Award. In 2016, TNC bought a 330-acre tract of land in Logan County that encompasses 250 acres of Niobrara chalk formations. The property adjoins the Smoky Valley Ranch which is owned by TNC. In 2018, the Kansas Legislature formally designated the chalk formations as Little Jerusalem Badlands State Park. The park is projected to be opened by summer 2019. The Kansas Department of Wildlife, Parks and Tourism (KDWPT) and TNC are collaborating to design access to the park and build trails to protect the fragile formations and unique ecology of the area.
The Niobrara chalk formation is a layer of rock deposited about 85 million years ago. It is composed of a chalk-like sediment that settled at the bottom of an inland ocean called the Western Interior Seaway which covered most of central North America roughly 140 to 70 million years ago. The rock was exposed and eroded over time, creating the tall pillars and rugged canyons that characterize the Little Jerusalem badlands.
In addition to breathtaking views, Little Jerusalem is also home to wildlife - from bats and ferruginous hawks to snakes, toads and lizards – and plants found nowhere else in the world.
"Without the help of the Conservancy staff, Kansas would not have this beautiful landscape as a part of its state park system," said Linda Lanterman, NASPD president and Kansas state parks director. "TNC and KDWPT are committed to making this property accessible to visitors, while ensuring that the fragile terrain is protected."
Prominent members of The Nature Conservancy of Kansas who have worked especially diligently to protect and make the Little Jerusalem badlands accessible include Rob Manes, Kris Knight and Matt Bain.
HISTORY IS FUN ~ Robert & Helen Caplinger
Old news from the 1923 Issues of Effingham New Leaf
HISTORY ARTICLE ABOUT ST. ANN'S CHURCH. "St. Ann's church, at Effingham, was established and the first church, a frame structure, erected in 1872. It was first attended by the Benedictine Fathers of Atchison. Rev. Boniface Verheyen having been the first pastor in 1876, a resident priest, Rev. John Begley, was appointed by the Bishop. The present church edifice was erected in 1897."
TROUBLE WITH SAILING THE OCEAN BLUE. "Most folks with the experiences of Miss Agnes Blair, who is on her way to Effingham from Scotland, would have given up the trip. The first ship upon which she had intended to sail had boiler trouble. Malvera, the second ship, went down off the coast of Newfoundland. The passengers were picked up by the ship "Melita" upon which the Pinders expect to sail, and taken back to England. The ship was "rammed" in the fog. The women passengers were fed when picked up, but the men had to wait until the next day, when a ship brought them provisions. Miss Blair will visit at the home of her aunt, Mrs. Janet Mackay."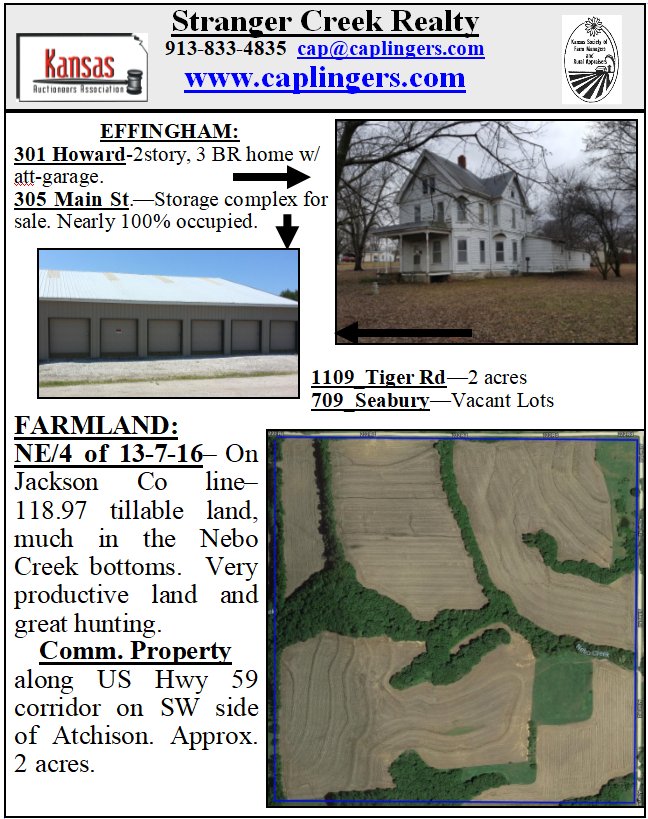 HISTORY FROM THE OBITUARY OF GEORGE W. HENDRICKSON. "George W. Hendrickson died Tuesday at Atchison; known as one of Atchison county's finest men. Mr. Hendrickson was 78 years old. He was born in Craig county, Va., Sept. 24, 1846. At the age of eighteen, he enlisted in the Confederate army under General Lee, serving throughout the war in the 22nd Virginia infantry. In 1870, Mr. Hendrickson came to Kansas, and he made his home in this state until his death. In the early days when D. C. Newcomb had the largest dry goods store in Atchison, Mr. Hendrickson was one of his employees. In 1883 Mr. Hendrickson entered into partnership with the late Nick Whelan and Ed Lewis, now of Horton, in the operation of a grocery store in the building now occupied by the Byrne drug store. They remained there only a little more than a year when he moved to Muscotah, where he operated a grocery store for more than twenty years. From Muscotah, Mr. Hendrickson went to Horton, where he remained a year, and then he came to Effingham to enter the grain and hardware business and he purchased the business and he purchased the home now owned and occupied by M. E. Craig. Ten years ago Mr. Hendrickson retired from active business life in Effingham and returned to Atchison, where he lived until his death. His home was one of the most beautiful and well kept in Atchison. Mr. Hendrickson is survived by his widow, who was Mrs. Lily Seaton Moore, before their marriage in 1883, their only child, Mrs. Davies, a brother, John Hendrickson, who has made his home at the George Hendrickson home for a number of years, and a nephew Guy Hendrickson of Hailey, Idaho. Mr. Hendrickson was a very active worker and officer in the Atchison Christian church, and was a member of the Masonic order. He was an all around good man, a perfect gentleman. Funeral services were held at the house. Interment was made at Mt. Vernon cemetery. Atchison Masons had charge of the services at the grave, and members of the official board of the Christian church, who are Masons, were pall bearers."
STUTZ BOUGHT OUT GREENE. "Charlie Stutz has bought out his brother-in-law Emmet Greene's interest in the drug store. While Effingham people will regret to have the Greene family leave town, they will be glad to welcome Mr. and Mrs. Stutz back as permanent residents."
"Chas. Stutz has rented the Pittman property and will move in as soon as it is vacated by the Emmet Greene family."
GREENE BUYS SABETHA DRUG STORE. "Emmet Greene bought the Drug Store at Sabetha Saturday and took charge of it at once. The Sabetha Drug Store is a nice one and Sabetha is a good town. Mrs. Greene accompanied him over Sunday morning to search for a house."
STORM DOES MUCH DAMAGE. "About 1:30 Wednesday morning, June 27, 1923, a terrific windstorm and rain occurred that did much damage to the telephone, telegraph and electric light lines, in Effingham and surrounding country. Wheat, oats and corn that were any height were flattened to the ground. A large plate glass window at the Effingham State Bank was blown in, and trees all over town were riddled. Old timers declare it is the worst storm that has occurred in this section in seventeen years."
BUD SNYDER TO THE RESCUE. "You should appreciated the New Leaf this week, if you never have before. It was 'ground' out by hand, because there was no juice. Bud Snyder did the grinding and by the way, Bud works like a man instead of a boy."
THE PINDER TRIP TO EUROPE. "The New Leaf is running a weekly report of the Pinder's trip to Europe. Rob't Pinder is writing the reports. The first week he described the trip from Kansas City to St. Louis to Niagara Falls to Montreal. The Second week, he described Montreal and then boarding the ship and the trip across the ocean. He says the next report will be from Paris. He is an excellent writer. The reports are too long for this article." 7.13.23
MORE ON THE CHURCHILLS OF MONROVIA. "Mrs. Albert Churchill, of Monrovia is the youngest grandmother in this section. Mrs. Churchill is the mother of fourteen children."
KU KLUX KLAN MET IN MONROVIA. "Effingham and country round about had its first view one night last week of the much talked of 'fiery cross.' It appeared in the form of a flaming cross on the Monrovia ball ground, where according to rumor all the way from 200 to 2,000 had gathered from St. Joe, Atchison, Nortonville, etc. Many curious seekers from Effingham drove past the place where the aggregation met, but so far as is known none from Effingham attended. Entrance to the pasture where the meeting was held was guarded by robed and hooded men, and no one was allowed to enter into the enclosure unless he presented a card or was vouched for by one of the hooded knights. What transpired at the meeting is known only to those who are members or prospective members. It is a secret organization. However, report comes to Effingham that all the way from five to two hundred were initiated into the invisible empire. The initial cost of belonging is said to be $10. While the organization may stand for many good principles and may do much good, shielding one's face behind a mask does not strike the average citizen as good American sportsmanship. To an extent it neutralizes the good and high principals the order professes to uphold. It is to be hoped that our good old peace loving, law abiding people, who have granted to one another the right of freedom of thought and worship, is not to be torn asunder by religious dissension." (Ed. Note. It is my understanding that the Monrovia ball ground was located on the Bishop property located on the corner south of Steve's home.)
PINDER REPORT OF TRIP. (7.20.23) The report was of trip through southern England, Belgium and Holland. The cities of Southampton, Antwerp, Brussels, etc.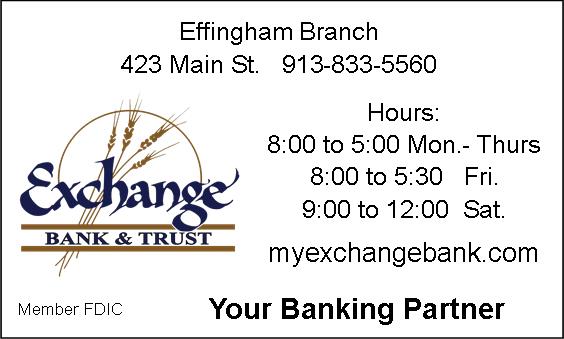 ATCHISON ROTARY CLUB COMES TO EFFINGHAM. "Forty of Effingham's business men and farmers entertained forty of Atchison's Rotarians in appreciation of the banquet the Rotarians held for the Effingham men two years ago. Effingham was the first place visited by the Rotarians." Of the speeches made, Wilber Hawk made a few brief remarks, stated that he conceived the idea when he was one year and six months old, of moving from Ohio to Kansas, and Kansas has been his home ever since. Franklin Hole, represented the farmers, in a very capable manner. Mr. Hole, was formerly a lawyer, is well read and keeps up with the times, said he was going to capture Edward K. Bok's offer of $100,000 for the best practical plan by which the United States may co-operate with other nations to achieve and preserve the peace of the world, then he was going to suggest that it be accomplished through the good fellowship of international Rotary where men of all nations can meet, break bread and smoke. (Ed. note: that wouldn't work now days, because Rotarians don't smoke in meetings.)
CLASSIFIED ADS
DO YOU WANT YOUR ISSUE OF THE NEWSLEAF MAILED TO YOUR HOME OR BUSINESS? SUBSCRIPTIONS ARE NOW AVAILABLE AT THE RATE OF $44.00 FOR 1 YEAR. Send your check to: The Newsleaf; PO Box 209; Effingham, Ks. 66023
"GUESS WHO"
Can you identify the person(s), place or time of the photo below? Last week was a photo of the students in 1928 in front of the ACCHS building.
LAST WEEK
Problems with this web site contact cap@thenewsleaf.com Last updated 9-18-2018
<![if !vml]>
<![endif]>