You are our Visitor
The January 23, 2018 Edition
of
The Newsleaf
Vol. 15 Issue 3
BETWEEN THE ISSUES
FRONT PAGE
WRESTLING ROYALTY NAMED
Atchison County Community Junior Senior High School is pleased to announce the candidates for 2018 King and Queen of Mats. Queen candidates are Alix Banks, daughter of Mike and Amy Banks; Lacey Christie, daughter of Dean Christie and Michele Zeit; and Jade Hollands, daughter of Jeff Hollands and Crystal Hollands. King candidates are Ty Ellerman, son of Clinton Ellerman and Tiffany Hoffman; Ryan Hanshaw, son of Mark and Renee Hanshaw; and Jaden Lee, son of Michael and Christina Lee. The crowning ceremony will take place on Thursday, January 25, 2018 in the ACCJSHS Gym, between matches of the wrestling match with Royal Valley and Holton.
They are shown in the banner above (L-R): Ryan Hanshaw, Lacey Christie, Alix Banks, Ty Ellerman, Jade Hollands, and Jaden Lee.
Farmerettes Award Students
The Kansas FCE Farmerettes sponsored the "Character Counts Essay and Poster Contest on "Citizenship" to the 4th grades at ACCES. Member Sally Banks presented the program to the classes and the 4th grade teachers, Steffenee Watkins and Josh Snyder followed through with the students on completion of the project. In Ms. Watkins class the winner was Max Bottorff and Rance Vessar received honorable mention, and in Mr. Snyder's class Avery Gilliland received honorable mention and Aaron Fassnacht's essay and poster was the county winner and will be sent on to the state competition. Judging for state winner takes place in March and the results will be announced.
(L to R) Avery Gilliland, Rance Vessar, Aaron Fassnacht, Max Bottorff
ALL AROUND US
EFFINGHAM LIONS CLUB JANUARY MEETING
The Effingham Lions Club met January 10. The meeting was called to order by Big Lion Dan Hawk with the Pledge of Allegiance.
Treasurer Lion Paul Lundgren reported that the club had served a hamburger supper on January 9th at the basketball game along with the 3 other meals served at the high school basketball and wresting activities.
Dan Hawk reported the club had received a thank you from Lions Club International Foundation (LCIF) for the $25.00 donation, and they also received a patch from LCID meeting the membership recruiting goals for 2016-2017 years.
Dan Hawk handed out 3 Milestone Chevron Membership Awards for years served as Lion Members. They were Lion John Oakleaf 40 years, Lion Larry Coder 45 years, and Lion Bob Falk 45.
Cy Wallace is having banners made to display the League Championships through the past years in the Effingham High School gym. It will take 11 banners to display them all with a price of $3,200.00. He requested some financial help. The club voted to donate $500.00 toward the project.
Volunteers are needed to take tickets at the January 12 basketball game. Lion Nancy Keith agreed to take tickets from 4:30 to 6:00 at all remaining games except February 16.
Dan Hawk thanked Mike Wessel for organizing and ordering the Lion Club Shirts and Hats engraved with the Lion's logo. There are still hats available.
Under new business the Lions will be sending a couple of band students to the Lions Band Day. Dan Hawk has been in contact with Band Director Mrs. Kerwood and she may have a couple of band students in mind. She has until April to decide.
Jim Ryser, a member of the Atchison County Fair Association, contacted Dan Hawk about placing an ad in the Fair Newspaper. The club voted to place an ad.
The date of April 18 was set for the annual Lions Pancake Breakfast if the high school commons area is available.
The date of February 24 was set for the chili cook-off if the Blue Building is available.
The club donated over $3,800 in 2017 locally and to service dog training in Washington, KS. The club started out 2018 by donating $500 for High School League Championship Banners. The club financed the donations by having several fundraisers during the year.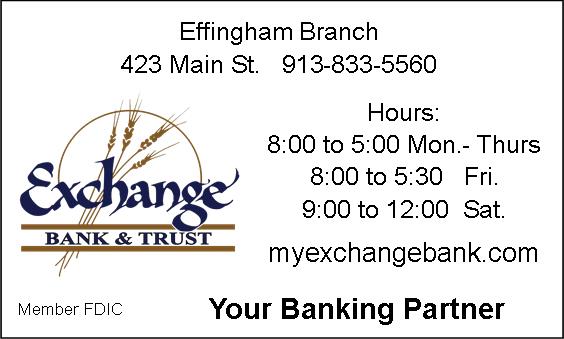 COMMUNITY CLUB TO MEET
The Effingham Community Club will meet Monday, Jan. 22 in the Effingham City Council room at 7:00 p.m. Program is members sharing "something old or something new." Donna Conner has devotions. Crystal Potts, Paula Hall, and Lorraine Strine are hostesses.
ST. ANN'S ALTAR MEETING
St. Ann's Altar Society met on Monday, January 8th, 2018 in the parish center. Julie Baker opened the meeting with a prayer. Eight members were present and answered roll call with "What did you do for New Year's?" Julie Baker read an inspirational quote for devotions. Communications report was given by Denny Cunningham. In November a card was sent to Joe Wessel, and nine Thanksgiving cards were sent, too. In December, seventeen Christmas cards were sent to: Leita Weber, Mary Ann Schrick, Margaret Miller, Angela Hegarty, Lou Ann Frost, Helen Weishaar, Joe and Mary Wessel, Russ and Carol Eckert, Vincent and Theresa Eckert, Tom and Carolyn Wilson, Jim and Mary Noll, Bill Wiedmaier, Pat Oswald, Gerry Schmelzle, Mary Ann Krier, Karen Weber, and Rich and Sue Gilkison.
Under old business it was reported that the aprons are done and a refrigerator will be purchased with a donation from the family of Helen Diebolt. Imo Chew will check at Sears in Atchison on prices and availability of type that the society wants.
Under new business it was reported that a funeral dinner was served for Dan Smith. They served 60-70 people. A discussion was held on possibly having one circle instead of two, and also on a funeral dinner committee. Julie will update the Altar Society books and send to Lockwoods to be printed. World Day of Prayer is March 3rd, 2018.
Julie Baker closed the meeting with a prayer.
Next meeting will be Monday, February 5th, 2018.
DAR NEWS
The Atchison Chapter of the Daughters of the American Revolution met on January 13, 2018 at the Atchison Library. Conservation and Flag minutes were shared along with an Indian minute on the Quapaw.
Plans are underway for the 110th Anniversary Celebration of the Atchison Chapter of DAR. The Celebration will be held January 27, 1:30 AM at the USD 409 Board of Education, 626 Commercial St., Atchison, KS. The Kansas DAR State Regent, Kathryn Walker West, will be speaking. The Chapter Charter and historical minutes will be on display.
The February meeting will be February 10, 2018 at the Atchison Library. A speaker from the American Red Cross will be presenting the program.
Kansas Farm Bureau Century Farm applications are now being accepted
MANHATTAN, KAN - Tradition and heritage are a big part of what makes agriculture such an attractive way of life for so many Kansans. The lifeblood of our existence – the farms and ranches in Kansas – provide food, fuel and fiber for the world.
The history of these farms and ranches is rich, with many stories to tell. In that spirit, Kansas Farm Bureau, the state's largest agriculture advocacy organization, is launching the 15th year of the Century Farm program. This program honors family farms that have passed down this heritage for more than a century.
It recognizes family farms whose current owner/operator is related to the owner/operator of the farm in 1918 or before. Qualifying farms will receive a farm sign designating "Century Farm" status and recognition from Kansas Farm Bureau.
"As farmers and ranchers, we are proud of our legacy and heritage," said Rich Felts, Kansas Farm Bureau president. "The Century Farm program will help others better appreciate the strong family ties and tradition that we hold so dear."
Since the year 2000, nearly 2,700 family farms qualified for the Farm Bureau Century Farm designation.
The deadline for consideration is May 15, 2018. Complete details for qualification and an application can be obtained at county Farm Bureau offices across Kansas or on the KFB website here.
Monthly Breakfasts Planned
The "Grow Nortonville with Pride" will be offering breakfast to the community and the surrounding area with a first Sunday of every month for the next six months. Feb. 4, Mar.4, April 8, May 6, and June 3rd. Held at the Knight of Columbus Hall in Nortonville from 9 am to 1 pm. A free will donation will be accepted. The group hopes this will give people a place to come to enjoy food and fellowship as well as help met fund raising goals. The organization will continue to bring social activities to the community. Menus will vary month to month
EFFINGHAM UNION CHURCH NEWS
UPCOMING EVENTS
Jan. 26 – Serve lunch at Topeka Rescue Mission
Feb. 4, 11, 18 - special offerings to Hunger Task Force
Feb. 10 - Nite Circle sponsored Valentine Fellowship Dinner at 6:00 P.M. --UM Topeka District Workshop
Feb. 12 - KS Legislative Event
Feb. 14 - Ash Wednesday service at 7:00 P.M.
--First Soup and Sermon
--Mary Martha Circle
Feb. 18 - Mary Martha Soup dinner
--Board Meeting at 11:00
Mar. 2 - World Day of Prayer (EUC)
Mar. 3 - UMW Spring mtg. Holton First UMC
Mar. 21 - EUC women serve soup and sermon
Apr. 1 - EASTER
Apr. 8 - One Great Hour of Sharing offering
FOOD PANTRY ITEMS FOR FEBRUARY
Food pantry list: Chunky Soups, Crackers, Canned Fruit, Cornbread Mixes, Cereal. Please note that more people might need help because of high utilities bills due to the severe cold weather. You can also send a cash donation to the First Christian Church, 301 N 7th, Atchison, KS 66002.
FEBRUARY NITE CIRCLE FELLOWSHIP
The Nite Circle Fellowship night is February 10 at 6 P.M. in the Union Church Christian Education Building. Martha Frederick will cater the meal. She is serving ham loaf with raspberry sauce, baked potatoes, salad, California blend vegetables, rolls and raspberry swirl cheese cake for $10.00. Bunco will be played for whoever wants to roll the dice and have some fun. Please notify Nancy Fasse or Cindy Ladd by February 4 if you plan to attend.
MARY MARTHA SOUP DINNER
The Mary Martha Circle will serve their annual soup dinner on February 18 from 11:00 A.M. to 12:30 P.M. They will be serving chili, chicken noodle soup, vegetable beef soup and homemade pie.
SOUP AND SERMON
The Atchison Methodist Church will be serving their annual Soup and Sermon at noon. It starts Ash Wednesday February 14 and runs all through the Lenten season until the Wednesday after Easter. Union Church Women will serve Turkey noodle soup at UMC soup and sermon, March 21. During Lent mark your calendar and plan to attend this inspiring event every Wednesday.
UMW SPRING MEETING
The Holton First United Methodist Church is hosting the Topeka District UMW March 3 from 8:15 A.M. to noon. The cost is $10.00 which includes lunch. Cindy Ladd said that since the meeting is so close she is hoping that EUC will have a good representation. It is always a joy to join our sisters in Christ. The program is about United Methodist Women. If interested in going, please contact Nancy Fasse.
ENDOWMENT SCHOLARSHIP
Senior high students active in the Effingham Union Church need to apply for the Endowment Scholarship by April 1st. The application can be seen on the high school counselor website or from Dede Caplinger (dede@caplingers.com).
Any high school senior that is active in the EUC Sunday School or Church may apply. Education options eligible for requesting funds include, but are not limited to, junior college, four year college, and vocational technical school.
TOPEKA DISTRICT GATHERING
Topeka District Gathering is Saturday, February 10 from 9:30 A.M. – 2:30 P.M. at Topeka: First UMC. All are invited to come for connecting and learning! We will begin with worship and then move to workshops. Topics include training for trustees, finance persons and staff/pastor-parish relations members; discussion on the way forward; partnership between laity and clergy; understanding your community; sharing best practices, and more!
Bishop Ruben Saenz, Jr. will preach and teach. Plan now to participate – registration information will come in the next week!
2018 Kansas Legislative Event for Advocacy in Faith (L.E.A.F.)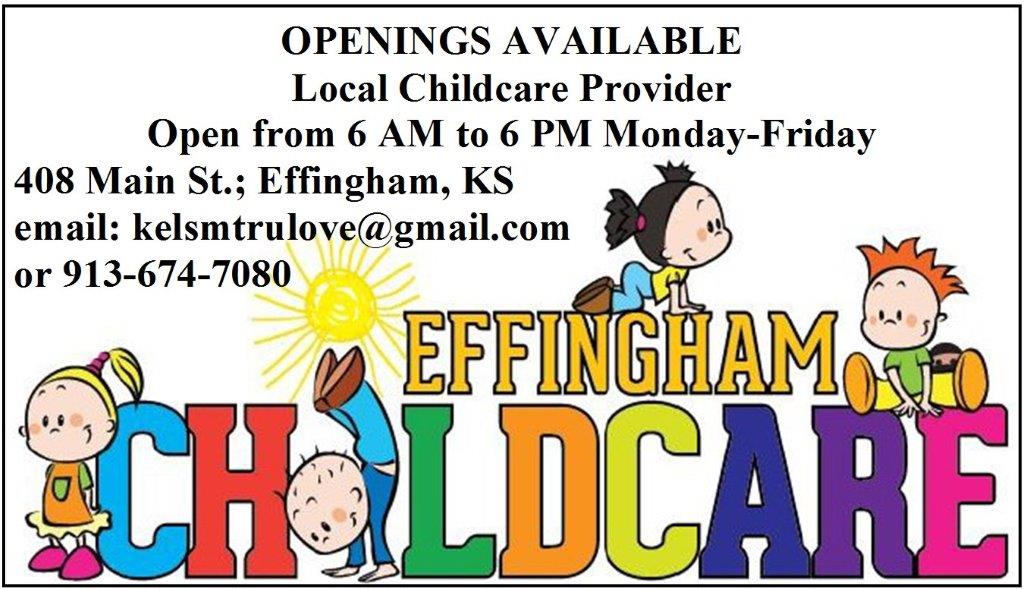 "Called To Community" is the 2018 theme for KS Legislative Event for Advocacy in Faith (LEAF) beginning Sunday evening at 6:20 P.M. (no fee on Sunday) on February 11th, and on Monday, February 12th at First UMC, Topeka Blvd. and 6th St., Topeka, KS beginning at 9:00 A.M. Sunday guest speaker is Annie McKay. Monday costs $30.00 early registration ($15.00 for students age 15-22), includes continental breakfast, lunch, program, and workshop materials. Registration by February 1 or pay the late registration fee of $35.00.
WORLD DAY OF PRAYER
The Union Church Women's Society is hosting the World Day of Prayer with the assistance of St. Ann's Altar Society, March 2 in the Union Church Education Building. Elaine Oakleaf will be planning WDP.
The host country for WDP 2018 is Suriname. The focus is on Genesis 1, the story of Creation, with the theme "All God's Creation Is Very Good!" On World Day of Prayer, people all around the world will unite to: - affirm their belief and faith in Christ; - be enriched by the experiences of other Christians, their countries and cultures; - pray for and/or with others for the burdens of others; - become more aware of their own talents, and to be encouraged to use them in Christian service; - develop awareness of the world as a whole, and to understand and appreciate that God loves all people everywhere.
NITE CIRCLE NEWS
The Union Church Nite Circle met Thursday, January 18 in the Christian Education Building with 11 members. Chairman Cindy Ladd presided over the meeting. The members signed valentine cards for Eileen Acheson, Rose Mary Barnett, Nora Culver, Geneva Dunster and Bonnie Hargrove and one get well card for Sue Dahl. Sharon Graves opened the meeting with devotions from Paradigm and Book of Mysteries by John Cann and Isa. 55:6-9. Then Cindy gave the opening prayer. Mary Kay Barnett distributed the new program books. For roll call each member shared either a concern or blessing and some both. Secretary-treasurer shared correspondence from Nora Culver thanking the circle for cards sent and Ashley Gerety thanking the circle for supporting her on her mission trip.
The church finalized the plans for the Fellowship dinner, February 10. Alice Johnson reported that EUC would be hosting World Day of Prayer March 2. Cindy reported that the Union Church would be serving lunch at the Soup and Sermon March 21st. The women discussed the women's spring meeting they will host in April.
After the business meeting Denise Fasse gave Inspirational Thoughts. She spoke about the amazing changes she has witnessed in her life time. Her mother was born in the horse buggy and automobile age and lived to see man walk on the moon. She compared the microchips that were used in the beginning which were much bigger than the smaller microchip of today that holds much more information compared to earlier ones. She expects her children and grandchildren will see more amazing things, but she wonders if all the change is good. She said, "I am comforted because God does not change. He is always the comforter and the sustainer and has always been with me."
Connie Dunster served refreshments.
JAM NEWS
We hope that you all had a safe Christmas, spending time with family and friends and taking time to remember the true meaning of the holiday, "Jesus is the Reason for the Season!"
We had five students with perfect attendance the first semester: Chandler Ellerman, Zoey Flory, Colton Lowe, Nadia and Natasha Noor.
Our lessons for December told the students about the angel's message first to Zechariah that his aging wife, Elizabeth, would have a son who would prepare the way for the Lord, John the Baptist. Shortly thereafter the angel appeared to Mary, telling her that she would give birth to the Messiah. John the Baptist prepared the way for Jesus, by reminding the people of what salvation was all about—the remission of sins. The Jews longed for peace. Our world is no different. Caught up in the hectic schedules of living, most people yearn for the peace Jesus can offer. And thanks to God, that peace is available to all who believe in Jesus.
When we hear the name John the Baptist, we often think of John as baptizing those who came to him. John changed lives as a visible sign that people had turned to God.
Mary was troubled at the angel's news that she was going to be the mother of the Messiah and had many questions of how such a thing could happen to her. The angel told Mary how the child would be conceived and that God can do anything. She responded in humble obedience. She was God's servant, and she wanted God's plan to be fulfilled in her life.
Bev Bowyer made coasters for all the students and leaders for a Christmas gift.
We thank those who provided snacks for us. Women who have signed up to provide snacks for 24 persons are: Jan. 24, Dede Caplinger; Jan. 31, Sandy Young; Feb. 7, Gigi Perry; Feb. 14, Diane Kiehl; Feb. 21, Gigi Perry; Feb. 28, Ruth Dillon.
JAM Sponsors
Congratulations to Mike and Amy Eckert on the birth of their new grandson, Asher Michael Eckert, the son of Andrew and Amanda Eckert. Asher's great grandparents are Mildred and Duane Hawk. May God shower blessings on little Asher and his family.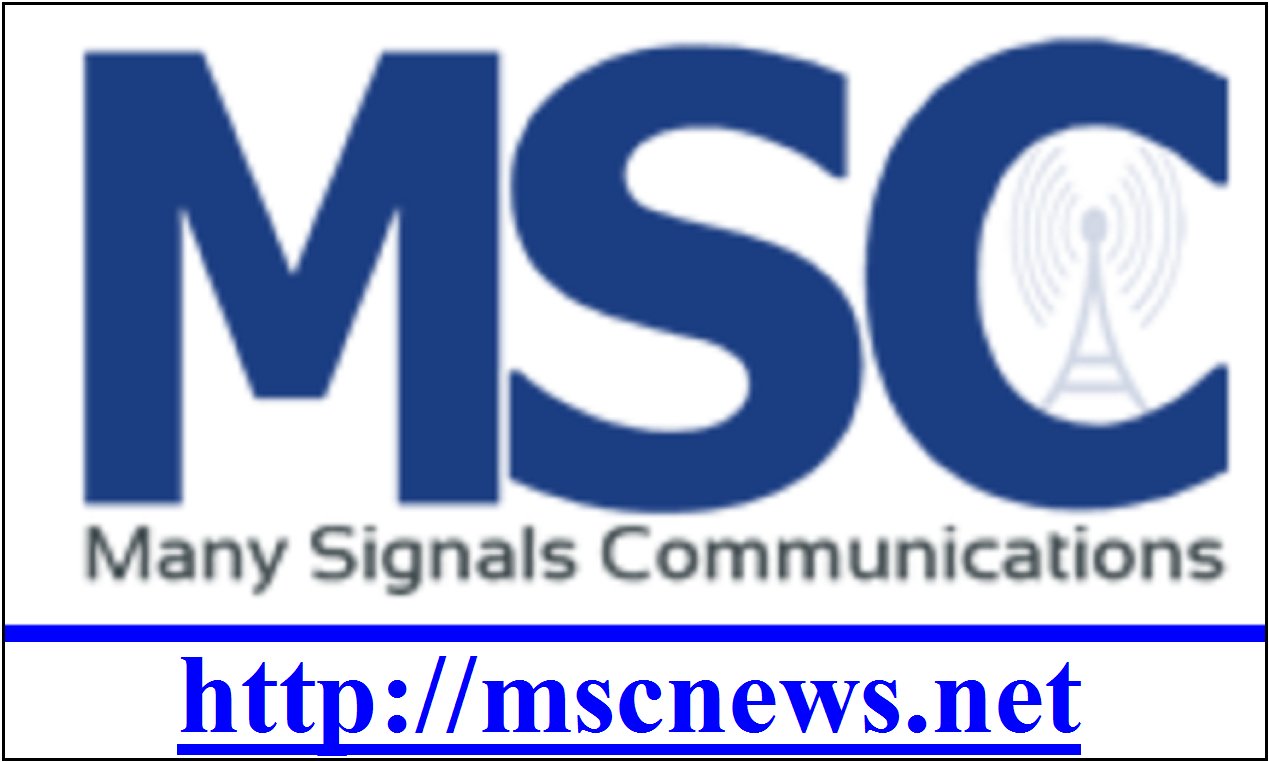 CCCC Announces Fall 2017 Honor Roll
CONCORDIA, KS 66901, KS (01/22/2018)-- Cloud County Community College has announced the names of students on the Fall 2017 Honors List. To be named to the honors list, students must be enrolled in a minimum of 12 hours of college coursework and earned a semester grade point average of 3.6-3.899. Mallory Eckert of Effingham has been named to the Fall 2017 Honors List.
CCCC Announces Fall 2017 President's List
CONCORDIA, KS 66901, KS (01/22/2018)-- Cloud County Community College has announced the names of students on the Fall 2017 President's List. To be named to the President's List, students must be enrolled in a minimum of 12 hours of college coursework and earned a semester grade point average of 3.9-4.0. Jacob Chalfant has been named to the Fall 2017 President's List.
Cloud County Community College (CCCC) is one of 26 public two-year community and technical colleges in Kansas and is coordinated by the Kansas Board of Regents. CCCC's service area encompasses a 12-county area primarily in north central Kansas with its two physical campuses in Concordia and Junction City.
Atchison County Farm Service Agency Announces County Committee Election Results
(Effingham, KS), Jan. 18, 2018 –Atchison County U.S. Department of Agriculture (USDA) Farm Service Agency (FSA) Executive Director David McAfee announced that County Committee elections are over and the ballots have been counted.
Ryan D. Swendson of Everest was elected to represent local administrative area (LAA) 1.
"County Committee members are a critical component of the day-to-day operations of FSA," said McAfee. "They help deliver programs at the county level and work to serve the needs of local producers. All recently elected County Committee members will take office in January 2018, and will be joining the existing committee." Every FSA office is required to have a County Committee, and they are made up of local farmers who are elected by local farmers.
Nearly 7,800 FSA County Committee members serve FSA offices nationwide. Each committee has three to 11 elected members who serve three-year terms of office. One-third of County Committee seats are up for election each year. County Committee members impact the administration of FSA within a community by applying their knowledge and judgment to help FSA make important decisions on its commodity support programs, conservation programs, indemnity and disaster programs, emergency programs and eligibility.
County Committee members impact producers through their decision making and help shape the culture of a local FSA office. They also ensure the fair and equitable administration of FSA farm programs in their counties and are accountable to the Secretary of Agriculture. Members conduct hearings and reviews as requested by the State Committee, ensure socially disadvantaged (SDA) farmers and ranchers are fairly represented, make recommendations to the State Committee on existing programs, monitor changes in farm programs and inform farmers of the purpose and provisions of FSA programs. They also assist with outreach and inform underserved producers such as beginning farmers and ranchers about FSA opportunities.
For more information, visit the FSA website at www.fsa.usda.gov/elections or contact the Atchison County FSA office at 913-833-5460.
Lions Have Endurance
In recent weeks, three members of the Effingham Lions Club have been recognized for their lasting endurance. Lions John Oakleaf, Larry Coder and Bob Falk were awarded the Chevron Milestone pin and a letter of commendation signed by Lions Club International President Dr. Naresh Aggarwal. Lion John has served as a Lion for 40 years and Lion Larry and Lion Bob for 45 years. This is indicative of their dedication and perseverance. They have all served in a variety of offices, including Big Lion (President) probably more than several times. They are to be emulated by new and younger members alike.
In a bit of a related side bar, there are four Lion members still active and going who were Charter Members. They are Bill Putthoff, Jim Potts, Leonard Hawk and Duane Hawk.
If you are interested in serving your community, a good way to do so would be to join the Effingham Lions Club. Meetings are the second and fourth Wednesdays of the month, normally held at the City Council Room at 7:30 PM. Stop in and check us out. WE SERVE.
USD 377 SCHOOL NEWS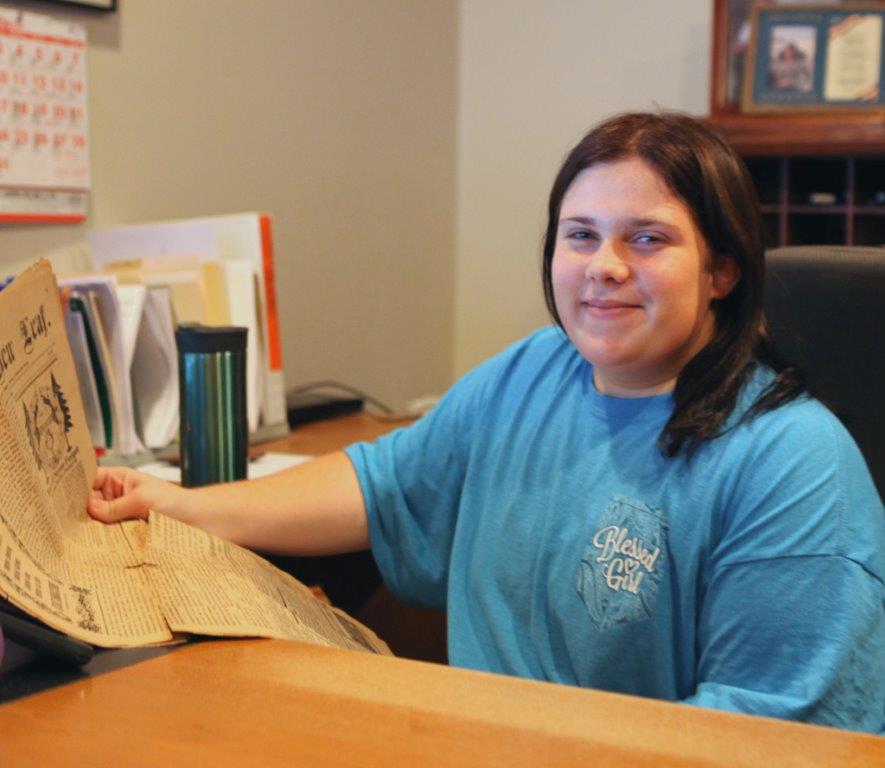 Tiger Talk ~ MaKaea Forbes
On Monday, the junior high boys basketball played Jeff West. Both eighth grade teams came up a little short for the win. Seventh grade A team won their game 28-22 and B team took a loss. They fought hard according to Coach Lott. "It was a hard fought battle all the way down to the buzzer, 22 - 19."
A Snow Day was on tap for Tuesday!!! Wait, it was rather a "Cold" day off for students. I love having the time off, but I would rather it be when it's warm. I am not a fan of the cold weather. I'm looking forward to the sun and heat in the next coming months. I asked some of my fellow students, "What do you do when school is called off for snow or cold related days?" Seventh grader Emili Postma said she watched Youtube and slept. Seventh grader Bradley Stanley played video games. Tenth grader Cheyenne Brown watched TV, messaged people and laid in bed. Tenth grader Jarid Siard played his Xbox. Sounds to me like it was too cold to go outside and enjoy the snow. I wish we could have had either a lot more snow or warmer temperatures so we could go outside and build a snowman.
With the cold day off, sports that were scheduled were postponed. Wrestling that was scheduled for Atchison was cancelled. The high school boys' basketball First Round tournament game vs. Pleasant Ridge was moved to Wednesday. First round didn't go so hot for the Tigers, with a loss of 45-36.
Junior high boys' basketball played Royal Valley, both eighth grade teams took a loss; A team 51-8, B team 24-14.
Friday, the varsity wrestlers attended the Paola Invitational. All four wrestlers came home with 5th place medals. Congrats! The junior varsity wrestlers attended the meet held at Holton. Due to so many wrestlers, wrestling ended at 9:00 and brackets were unfinished.
That's a wrap for this week Tiger fans.
MUSCOTAH NEWS ~ Susan Higley
A meeting was held Thursday night, January 18th to start making plans for Muscotah Days to be held on Saturday, June 2nd. Many of the activities will be the same but the event will be held downtown instead of the park. Plans are still in progress so watch for more details. As always we need your help and ideas. For more information call Ed Higley at 785-872-3245. The next meeting will be Thursday, February 15th at 6:30 at the community building. Some of the activities discussed were car show, vendors, kid's games, bouncy house, quilt show, garden tractor pull, barbecue cookoff and of course lots of good food and cold drinks.

A good crowd attended the Cancer Support Group on Saturday afternoon. There was a lot of laughter with lots of good refreshments. Proceeds will go to help local cancer patients with extra expenses incurred during treatment. We want to thank everyone who comes and supports our effort. We couldn't do it without you. We had some new faces this month but was missing one of our special players who was not feeling well. The next bingo will be Saturday, February 17th at 2 p.m. at the community building. Come and enjoy the afternoon and bring a friend.
Have a good week and don't forget Kansas Day on Monday, January 29th. Get out the sunflowers and sing a verse of "Home on the Range."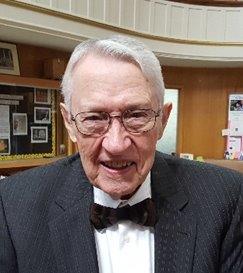 IDOL FREE ENVIRONMENT REVEALS GOD ~ Jack Albright
My prayer: "God, I am the pen. I ask you to become the ink that goes on paper to bless those who read your words."
I give thanks to everyone who wrote or voiced appreciation for the article about removing idols. Your kind words put gas in my tank.
I was in a group of eleven persons who openly shared our need to recognize, examine, accept, and remove idols from our life. We were amazed at how easy it is to idly make an idol of people, events, or simple everyday happenings.
Isaiah was one of the most prominent and most quoted prophets in the Old Testament. He predicted the birth of Jesus Christ hundreds of years before Christ was born. Could such a man have an idol in his life? Yes. It was possible and it was a fact. King Uzziah had unobtrusively become an idol of Isaiah. The story begins in Isaiah chapter 6. verse 1. "In the year King Uzziah died, vanished from sight, I saw the Lord."
God used the shocking death of King Uzziah to awaken Isaiah to the more shocking realization that he had permitted the king to become an idol.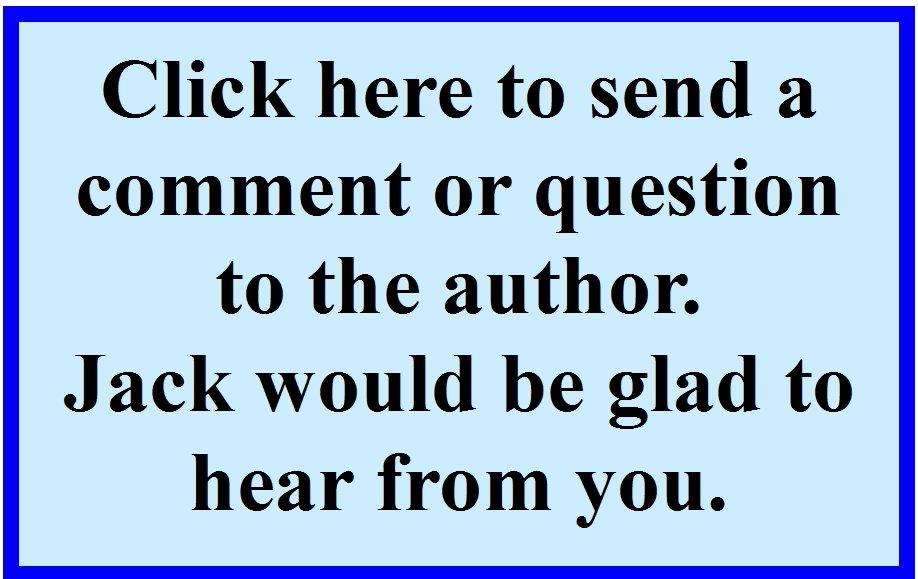 Teach us to number our days, that we may gain a heart of wisdom. Psalm 90:12 (NIV) With full awareness of my numbered days I thank God for giving me the grace to properly place my belligerent son and my guiltless granddaughter. I must place each of them uniquely on an altar as my faith offering to God.
The first thirty years of his life was a near-perfect example of a successful, gifted, and dedicated Christian. His life made a dangerous turn when he said, "I tried God's way and it didn't work. I have found a better way." That path has led him into deep depression and extremely radical viewpoints. I must place him properly before God…and leave him totally before Jesus.
And now, I lovingly bring my granddaughter and place her in the safest place in the world---safe in the arms of Jesus.
I first placed her before God when she was two weeks old. I held her perfect body safely in my left arm and hand and offered her to God as a living sacrifice on his altar. I close my dedication prayer with these similar words: " I not likely will live long enough to see who and what God has created you to become. But when you become the person God plans for you to be…listen carefully and you will hear hands clapping from heaven from both God and me.
God has granted me nine years to be the grandfather she needed.
I rejoice and give thanks for those years. I have planted precious seed. Now that I have fulfilled my part of the process, I will prayerfully welcome those people and events that continue God's leadership in her life.
The Bible speaks of this spiritual process. "We each carried out our servant assignment. I planted the seed, Apollos watered the plants, but God made you grow. It's not the one who plants or the one who waters who is at the center of this process but God, who makes things grow."1 Cor. 3:6 (MSG)
I ask readers to pray for me, and yourself that we will willingly take our proper place as active leaders…or as an effective "behind the scene" leader and supporter.
I appreciate all the encouragement I receive from readers. I am inviting you to respond to my writing by using the email address below. Please join with me in helping others by suggesting subjects or problems for future columns: jack-albright@att.net
FROM PASTOR AL ~ Al Schirmacher
Family
Christian friend,
There is no doubt family is very important to our Lord.
His blessing of the children - commands on training and nurturing - encouragement of love and respect between spouses - raising a widow's son from the dead - and other scriptures speak volumes.
But...
As so many assert...
Is family our #1 priority?
Let's listen to the scriptures.
"But seek first his kingdom and his righteousness, and all these things will be given to you as well."
Matthew 6:33 NIV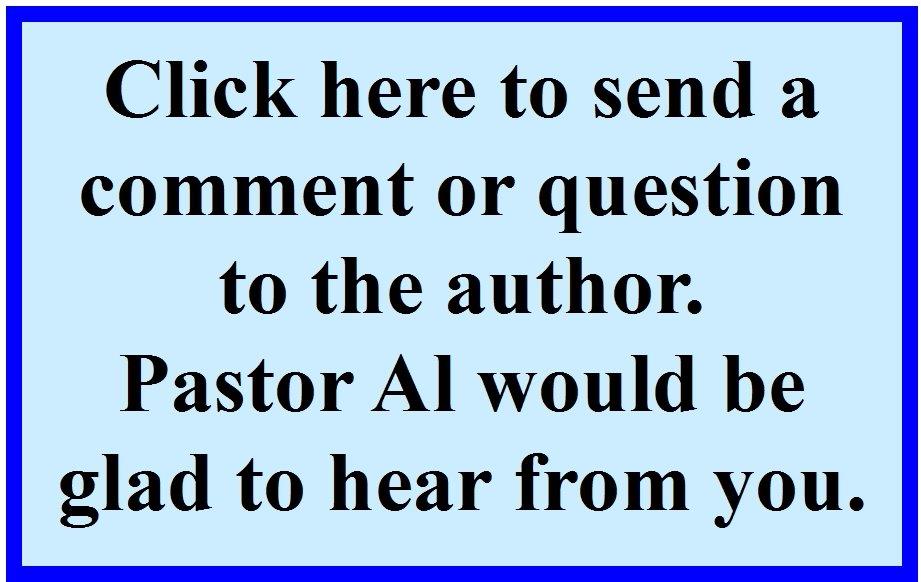 "He said to another man, "Follow me." But he replied, "Lord, first let me go and bury my father." Jesus said to him, "Let the dead bury their own dead, but you go and proclaim the kingdom of God.""
Luke 9:59-60 NIV
"For I have come to turn " 'a man against his father, a daughter against her mother, a daughter-in-law against her mother-in-law— a man's enemies will be the members of his own household.' "Anyone who loves their father or mother more than me is not worthy of me; anyone who loves their son or daughter more than me is not worthy of me. Whoever does not take up their cross and follow me is not worthy of me."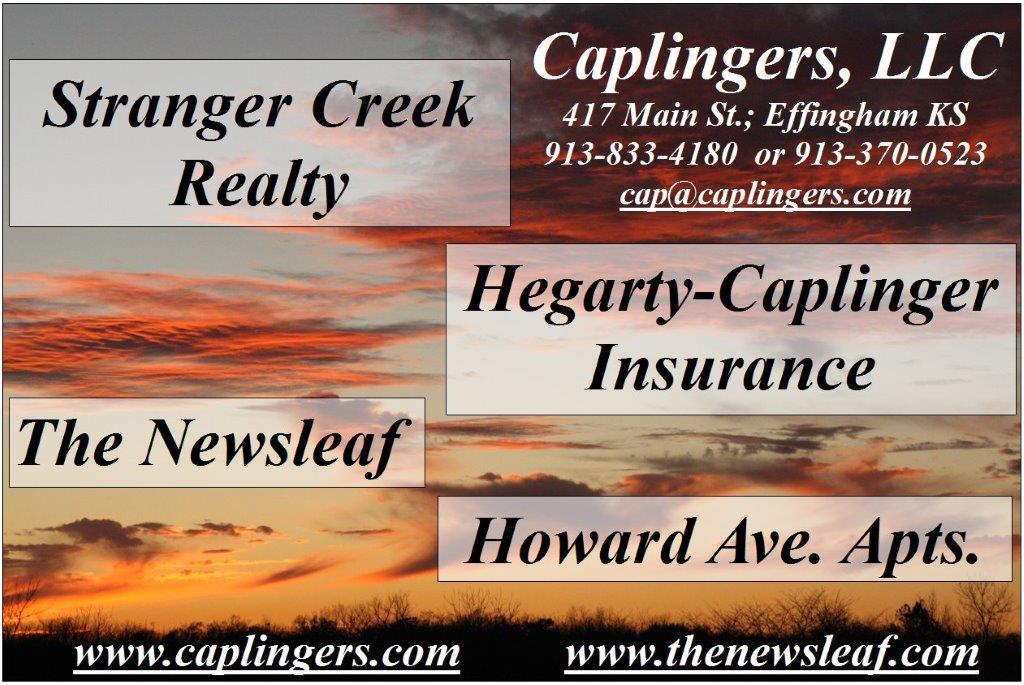 Matthew 10:35-38 NIV
"One of the teachers of the law came and heard them debating. Noticing that Jesus had given them a good answer, he asked him, "Of all the commandments, which is the most important?" "The most important one," answered Jesus, "is this: 'Hear, O Israel: The Lord our God, the Lord is one. Love the Lord your God with all your heart and with all your soul and with all your mind and with all your strength.' The second is this: 'Love your neighbor as yourself.' There is no commandment greater than these.""
Mark 12:28-31 NIV
Not that we love family less, but love and follow Him more.
Words to ponder today.
Al Schirmacher
Christian friends,
kids will face trials -
if we always protect will
they learn to handle?
(Sometimes we bear each others' burdens, sometimes they carry own load)
"Carry each other's burdens, and in this way you will fulfill the law of Christ. If anyone thinks they are something when they are not, they deceive themselves. Each one should test their own actions. Then they can take pride in themselves alone, without comparing themselves to someone else, for each one should carry their own load."
Galatians 6:2-5
(See the value of trials; God is maturing our children)
"In all this you greatly rejoice, though now for a little while you may have had to suffer grief in all kinds of trials. These have come so that the proven genuineness of your faith—of greater worth than gold, which perishes even though refined by fire—may result in praise, glory and honor when Jesus Christ is revealed."
1 Peter 1:6-7 NIV
"Consider it pure joy, my brothers and sisters, whenever you face trials of many kinds, because you know that the testing of your faith produces perseverance. Let perseverance finish its work so that you may be mature and complete, not lacking anything."
James 1:2-4 NIV
"Not only so, but we also glory in our sufferings, because we know that suffering produces perseverance; perseverance, character; and character, hope. And hope does not put us to shame, because God's love has been poured out into our hearts through the Holy Spirit, who has been given to us."
Romans 5:3-5 NIV
LETTERS TO THE EDITOR
HEALTHY CHOICE ~ John Schlageck, Kansas Farm Bureau
Can a person ever have too much of a good thing?
I believe this may be the case when you look at all the soft drinks, flavored water and sports beverage choices today. They're everywhere.
You can't walk into a supermarket or convenience store without bumping into the many drink offering displays.
And flavors. Wow.
Just think of some taste you desire like fudge malted gumball, cheese yogurt yummy or silvery satin strawberry. It's out there and you can buy it and drink it down.
Without question, the best part of these drinks for me is the packaging.
It's unbelievable. And the creativity?
It's almost too much for one to digest.
Anymore, I don't even care what's in the container. I just want to hold it in my hand, caress its coolness, admire its latest, unique logo and look good doing so.
While many are content with the multitude of diet sodas, and flavored waters like blackberry blush, my drink of choice is chocolate milk. I really enjoy it. I have since I was a small child.
Today's explosion of new soft drinks, flavored waters and sports drinks has one major worrisome aspect I cannot help but point out.
Pitchmen, women and yes kids are filling our heads with the idea these flavored drinks can be part of a well-rounded, balanced diet. Their ads and infomercials are as numerous as grains of sand on our beaches – and they're spending billions.
The most alarming part of this sales pitch is that so much of it is aimed at our youth. In case you haven't been in today's schools this drink deluge is very much a part of the contemporary scene.
Soft drinks have no business being considered part of a balanced diet at our schools or anywhere else. These drinks have little, if any, nutritional value.
Look at the ingredients in a soft drink the next time you pick one up. Most people wouldn't have a clue what these ingredients are, myself included.
To be part of a balanced diet, a food product must have nutritional value. I believe soft drinks have such a negligible amount, they cannot be considered seriously as part of any "balanced" diet.
Unlike water, soft drinks won't even quench your thirst. They leave you longing for a tall, cool glass of water.
Talk to a nutritionist or physician and what is the ingredient we're supposed to drink at least eight glasses of?
That's right. Nature's own liquid – water.
What about that wonderful white liquid chocked full of calcium we call milk?
Where does it fit in our daily diet?
Milk belongs in almost everyone's diet. Nutritional research has stressed that men and women between the ages of 11 and 24 need the equivalent of five servings of dairy products daily. This can be milk, yogurt, cheese, ice cream and a whole array of other good-tasting dairy foods.
Juice from oranges, grapefruit, lemons, limes, cranberries, strawberries and other fruits is another item that belongs as part of a balanced diet. Food products from natural primary crops – not always secondary, highly processed food products – are essential to our youngsters' diets. We owe it to them and their good health.
Other drinks made from tomatoes, carrots, celery and other vegetables are loaded with vitamins, minerals and fiber. Vegetable drinks should be included as part of our daily diets.
But let's return to soft drinks. You've got to admit it's a brilliant stroke of marketing to link sports and flavored drinks with a well-rounded, nutritionally balanced diet. Infer something often enough and people will begin to believe.
Soft drinks linked with a balanced diet and nutrition is about as palatable to me as the drink manufacturers laughing all the way to the bank.
There is no substitute for healthy, nutritious food in our daily diets. Students and adults should reach for a tall glass of water, juice or milk the next time they're thirsty. These are truly nutritious products that belong in a daily balanced diet.
The occasional Coke or Dr. Pepper can be a real treat, and everyone should indulge their simple pleasures from time to time.
But the rest of the time, keep it simple – chocolate milk, fruit juices or water will do just fine. You'll be doing yourself a favor and you'll be supporting farmers and ranchers who supply these fresh, tasty, nutritious drinks.
Bottoms up.
John Schlageck is a leading commentator on agriculture and rural Kansas. Born and raised on a diversified farm in northwestern Kansas, his writing reflects a lifetime of experience, knowledge and passion.
OBITUARIES
Kenneth Elroy "Kenny" Cattrell, 77, of Nortonville, KS passed away Saturday, January 20, 2018 at F.W. Huston Medical Center in Winchester, KS. He was born October 6, 1940 in Dexter, IA, the son of Roy L. and Juanita (Uber) Cattrell.
Kenny graduated from ACCHS in 1958 and attended Vo-Tech in Topeka. He lived in the Nortonville community since 1962 and previously in Atchison for 2 ½ years. He worked for 44 years at Atchison Casting/Rockwell; retiring in 2003. He also worked as a driver for USD 377 for 8 years and he owned and operated Kenny's Service Center in Nortonville for 34 years.
Kenny was a member of the Effingham Union Church, he was a 4-H Leader for his children and grandchildren, he was a member of Atchison County Fair Board; serving as president and was inducted into Kansas Fair Hall of Fame in 1998. He was also a member of 16-75er's Square Dance Club and Effingham Lions Club.
Kenny married Darlene Ingels on April 25, 1959 in Whiting, KS. She preceded him in death on October 15, 2016. He was also preceded in death by his parents and his sister, Bonita Cattrell.
Survivors include a son, Gary Cattrell (Theresa) of Nortonville, KS; a daughter, Kathy Cattrell (Steve Lee) of Atchison, KS; 2 sisters, June Fund (Jim) of Horton, KS and Deloras Fields (Richard) of Netawaka, KS; 4 grandchildren, Jason Cattrell, Randy Cattrell (Alicia), Ashley Henning (Justin) and Kenneth Joey Cattrell and 8 great-grandchildren, Ryan, Peyton, Emily, Riley, Jakob, Hannah, Baylee and Hudsyn.
Funeral Services will be 10:30 a.m. Wednesday, January 24, 2018 at the Mercer Funeral Home in Holton. Burial will follow in the Netawaka Cemetery. Family will greet friends from 5:30 – 7:00 p.m. Tuesday evening at the funeral home. Memorials may be given to the Meals on Wheels of Atchison or F.W. Houston Medical Center c/o Mercer Funeral Home, P.O. Box 270, Holton, KS 66436. To leave a special message for the family, please visit www.mercerfuneralhomes.com.
Marjorie H. Handke, 90, Huron, Kansas died peacefully in her sleep Friday, January 19, 2018 at her home.
Mass of Christian burial will be Wednesday, January 24, 2018 at 10:30 A.M. at St. Louis Church at Good Intent with Fr. Benjamin Tremmel, OSB as celebrant. Interment will follow in St. Louis Church Cemetery. A parish rosary will be recited on Tuesday, January 23rd at 6:30 P.M. at St. Louis Church with visitation with the family to follow until 8:00 P.M. In lieu of flowers, memorial contributions are suggested to the Altar Society of St. Louis Church and may be left in care of Arensberg-Pruett Funeral Home with whom the final care has been entrusted. Online condolences may be left at www.arensbergpruett.com.
Marjorie was born October 5, 1927 in Effingham, Kansas the daughter of Ernest and Margaret Burg Falk. She graduated from Atchison County Community High School in Effingham, Kansas.
Marjorie and Donald Handke were united in marriage on January 11, 1949 at St. Ann's Church in Effingham, Kansas. Together they settled on a farm near Huron where they spent their entire married life.
Marjorie was a member of St. Louis Church, the Altar Society of the church, Old Huron Club, the Sunshine Club and the Atchison County Home Demonstration unit. She learned to play the guitar at an early age and she and her two sisters played community meetings until her marriage.
She loved her flowers, and her hobbies included decorating cakes, oil painting and needle-point.
Marjorie is survived by her husband, Don; one daughter, Eileen (Don) Lositio, Charlotte, NC; three sons, Jim (Diane) Handke, Lancaster, KS; Dennis (Marlene) Handke, Topeka, KS; and Tom Handke, Lancaster, KS. She is also survived by three granddaughters, two grandsons, and two great grandchildren. One sister Irene Becker, Robinson, KS and numerous nieces and nephews.
Besides her parents, Marjorie was preceded in death by a brother, Lawrence Falk and a sister, Mary (Gene) Handke.
Larry Allan Wohlgemuth, 58, of Atchison, Kansas passed away Saturday, January 20, 2018 at his home surrounded by his loving family.
Funeral services will be Wednesday, January 24, 2018 at 1:00 p.m. in the chapel of the Arensberg-Pruett Funeral Home. Interment will follow in Camp Creek Cemetery. The family will receive friends on Tuesday, Jan. 23rd, from 6:00 p.m. until 8:00 p.m. at the funeral home. Memorial contributions are suggested to Camp Creek Cemetery, to be used for entrance restoration, and may be left in care of the Arensberg-Pruett Funeral Home. Condolences and messages to the family may be left online at www.arensbergpruett.com.
Larry was born on May 3, 1959 in Atchison, Kansas the son of Kenneth A. and Geraldine (Hargrove) Wohlgemuth. He attended schools in Effingham, Kansas, graduating from Atchison County Community High School in 1977.
He and the former Paula Frakes were united in marriage on June 18, 1977 in Atchison, Kansas.
Larry was a lifelong farmer; he grew up farming with his dad and kept the tradition going. He continued raising cattle and farming at home even when he worked for different businesses throughout his life. He was employed at Lincoln Grain in the maintenance department as the head boiler operator and then with the Local Union 101 Operating Engineers as a heavy equipment operator. In 2014, Larry started Wohlgemuth Dozing, where he worked for numerous farmers serving their variety of needs.
He is survived by his wife of 40 years, Paula Wohlgemuth, of the couple's home, a son, Jason (Cynthia) Wohlgemuth, Easton, KS, a daughter, Jamie (Rick) Menichetti, Gretna, NE, his mother, Geraldine Wohlgemuth, and four grandchildren, Chase Wohlgemuth, Lane Wohlgemuth, Kamryn Menichetti, and Kendyl Menichetti.
He was preceded in death by his father, Kenneth Wohlgemuth.
Robert A. "Bob" Lewman, 91, of Cummings, KS, died on Monday, January 15, 2018 at the Atchison Senior Village.
Funeral services were held at 10:30 am on Thursday, January 18th, 2018 at the Cummings Christian Church with Rev. Jim Cormode officiating. Burial followed at the Cummings Cemetery. The family received friends from 6:30 to 8:00 pm on Wednesday, January 17th, 2018 at the Becker-Dyer-Stanton Funeral Home. Memorial contributions are suggested to the Cummings Christian Church, Cummings Cemetery or Atchison Senior Village and may be sent in care of the funeral home. Condolences to the family may be left online at www.beckerdyer.com.
Bob was born on August 6, 1926 in Cummings, KS the son of Leonard E. and Grace M. (Hattan) Lewman. He attended Atchison County Community High School. Bob was a farmer and a dairy farmer in the Cummings Community, retiring in 1992. Bob was a member of the Cummings Christian Church, where he served as Deacon for over 55 years and on the church Board of Directors. He enjoyed farming, sports, watching the grandkids and great grandchildren play sports, country and gospel music, KU Jayhawks and KC Chiefs, playing cards, going to the casino, collecting decks of cards and especially his family. He served as past member of the Atchison County Dairy Board, on the Water District # 5 Board, the Cummings Cemetery Board, the ASC Board, St Nick's School Board and the Atchison County Extension Board. He was also active in supporting the 4-H and the Atchison County Fair.
He was married to Edith M. Parrott on May 1, 1949 at Cummings Christian Church. She survives of the home. Additional survivors include two sons, Jerry D. (Ann) Lewman, Topeka, KS, and Donald D. (Kathleen) Lewman, Cummings, KS, two daughters, Linda D. (Keith) Kuykendall, Atchison, KS, and Cheryl D. (David) Jacobson, Nortonville, KS, two sisters, Patricia L. Porter, Atchison, KS and Helen Meader, Sabetha, KS, nine grandchildren, and seven great grandchildren and two great great grandchildren and several nieces and nephews. His parents and four brothers, James E., Ralph M, Winston L., and Roy Lewman and a sister, Mary Jane Harmon preceded him in death.
Betty Marie Gentry, 86, Hiawatha, Kansas formerly of Cameron, Missouri passed away on January 16,2018.
Betty was born on November 26, 1931 in Lathrop, Missouri to Harry Harold and Opal (Hubbard) Southwick.
She was preceded in death by her parents; husband, Albert Lloyd Gentry; son, David Gentry and brother, Harold Southwick.
Betty was a 1949 graduate of Lathrop High School.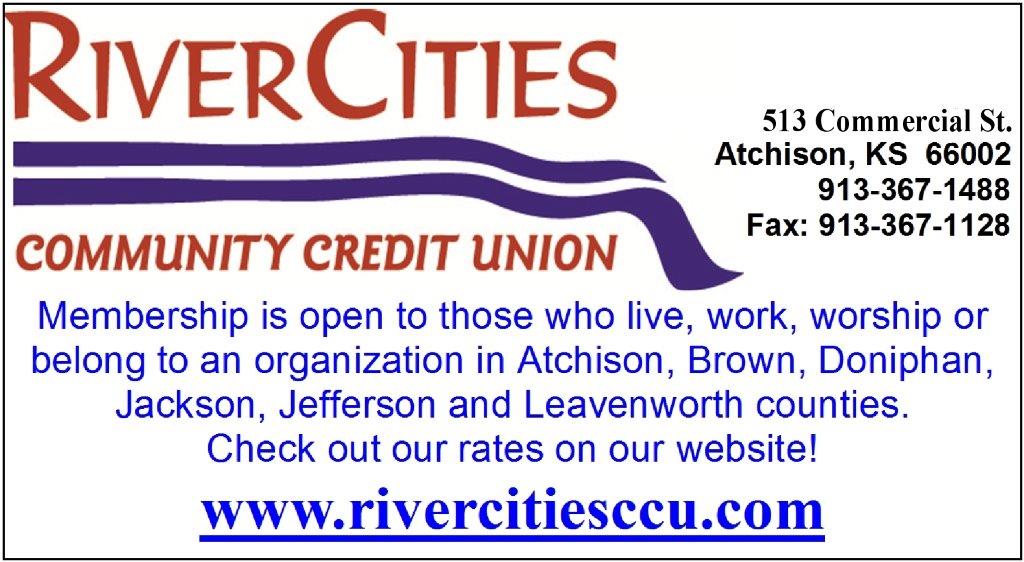 She married Albert Lloyd Gentry on May 20, 1949 in Cameron, MO.
Betty was a member of the Cameron First Christian Church, where she taught Sunday School and was active in the Christian Women's Fellowship. She also was on the committee of the First Christian Church Cookbook. Betty enjoyed cooking for her family and friends.
Survivors: daughter, Shirley Gentry, Effingham, KS; 2 sons, Terry (Teresa) Gentry, Cameron and Mark (Marcy) Gentry, Effingham, Kansas; sister, Harriett Lacey, Centerton, AR; brother, Jack (Sandy) Southwick, Lawson, MO; 4 grandchildren, Travis (Jen) Gentry, Todd (Sarah) Gentry, Caitlyn Gentry and Erin Gentry; 3 great-grandchildren, Hadley, Case and Brooks.
Service was held at 11:00 AM, Friday, January 19,2018 at First Christian Church, Cameron. Visitation was 10-11:00 AM, prior to the service. Cremation followed the service. Inurnment will be at a later date in Harlan Cemetery, Cameron, MO. In lieu of flowers, donations to the First Christian Church. Arrangements by Poland-Thompson Funeral Home, Cameron. Online condolences: www.polandthompson.com.
GOVERNMENTAL NEWS
Unapproved Minutes of the January 16 Meeting of the Atchison Co. Commission
Pursuant to the law, the Atchison County Commission Board met in Regular Session at 9:00 AM on the 1st floor of the courthouse, 423 N 5th St. Atchison, KS. Chairman Eric Noll called the meeting to order with Commissioner Henry W. Pohl, Commissioner Jack Bower, and County Counselor Patrick Henderson present for the meeting. County Clerk, Michelle Phillips, recorded the minutes.
The Board recited the pledge of allegiance to start the meeting.
Minutes of the January 9, 2018 meeting were reviewed with 2 minor corrections noted. Commissioner Bower made the motion to approve the minutes. Commissioner Pohl seconded the motion. Chairman Noll called for a vote, all voted aye. Motion carried 3-0.
The board tabled approving the minutes of the joint City/County meeting until next week.
*Commissioner Comments and Committee Reports:
Commissioner Bower attended the Economic Development Advisory Group (EDAG) meeting on Thursday, January 9, 2017. Commission Bower stated that there were lots of items discussed and it was a very good meeting. Commissioner Bower also mention that there was an update on the Entrepreneurship Community Program (E-Community) and wanted to make sure all county people are aware of. This is an organization providing practical resources, including low interest loans, to help entrepreneurs who are wanting to start or expand a business in Atchison County. Those interested can contact the City of Atchison.
Chairman Noll mentioned that the Northeast Kansas Environmental Services (NEKES) meeting that was scheduled for Thursday, January 11, 2018, was postponed due to the weather. This meeting has been rescheduled until January 18, 2018 in the morning. Chairman Noll also mentioned that he will have a NEK-CAP meeting January 18, 2018 in the afternoon.
Chairman Noll and Commissioner Bower will be attending Local Government Day hosted by Kansas Association of Counties (KAC) on January 24, 2018 in Topeka.
Chairman Noll mentioned that he would like county representation at the next Project Atchison meeting, scheduled for Wednesday, February 7, 2018. Project Atchison will be hosting a happy hour for Atchison County agencies. During this time they are hoping to provide an opportunity for agency professional to converse and collaborate together to make positive changes in the community.
*Reports of Elected Officials and Department Heads:
Corey Scott, Emergency Medical Director, appeared before the board with copies of the December 2017, monthly commission report as well as the 2017 yearly commission report. He feels very satisfied with the numbers and how his staff are responding. He noted that all of his
times come from the radio communication with dispatch. These numbers are kept independently from dispatch.
Commissioner Pohl notices that the camera was froze on a screen; however, the audio portion of the meeting was still being captured. The camera was restarted at this time.
Director Scott, told the board that the crews take into account the weather and take precautions when needed; however, this may affect the times and slow them down a bit. Director Scott wanted the board to know that EMS staff, along with emergency partners, have accumulated 197 clock hours of continuing education. He plans to expand this for the 2018 year for more mission focused training, creating a better and more diversified crew. Director Scott told the board that he is hoping to have some solid financial information for the board soon and that they are caught up with the billing. He mentioned that the aging debt is seeing successful results and should not see the aging debt like they did this year due to a more streamline process.
Melissa Crane, Appraiser, appeared before the board inquiring about purchasing a vehicle that was sent out via e-mail from state surplus department. Crane stated that there are times that she does not have enough vehicles due to data collection being out along with education and trainings. Crane sold one of the vehicles that she had due to the condition. The county purchased a vehicle that is basically to be used to trainings for employees countywide. The board told her they could discuss it at a later date.
*New Business Before the Board:
Seth Howard, Road and Bridge Superintendent, previously presented the board with a purchase order for replacement of an axle seal for the Volvo grader payable to G. W. Van Keppel in the amount of $7,743.20. This is the 2nd side to be replaced. Commissioner Bower made a motion to approve the repairs to G.W. Van Keppel in the amount of $7,743.20. Commissioner Pohl seconded the motion. Chairman Noll called for a motion, all voted aye. Motion passed 3-0.
Seth Howard, Road and Bridge Superintendent, previously presented the board with a supplemental agreement between the Secretary of Transportation, Kansas Department of Transportation and Atchison County. This is a yearly participation in the Secretary's voluntary Federal Fund Exchange Program. Commissioner Bower moved to approve the agreement with the Secretary of Transportation and Kansas Department of Transportation. Commissioner Pohl seconded the motion. Chairman Noll called for a vote, all voted aye, Motion passed 3-0.
Chairman Noll had a purchase order payable to Kansas County Association Multi-Line Pool (KCAMP) for the 2018 annual premium in the amount of $139,540. The original invoice was for 152,100 with a one-time rate stabilization credit of $12,560. Commissioner Bower moved to approve the amount for the 2018 annual premium in the amount of $152,100 payable to KCAMP. Commissioner Pohl seconded the motion. Chairman Noll called for a vote, all voted aye. Motion passed 3-0.
County Counselor Patrick Henderson presented the board with Resolution No. 2018-1432 concerning Judicial Foreclosure and Sale of Real Estate Tax Liens. Counselor Henderson explained to the board that this is part of the process of filing a tax sale case and the board must authorize it by resolution. Commissioner Pohl moved to adopt the Resolution No. 2018-1432. Commission Bower seconded the motion. Chairman Noll called for a vote, all voted aye. Motion passed 3-0.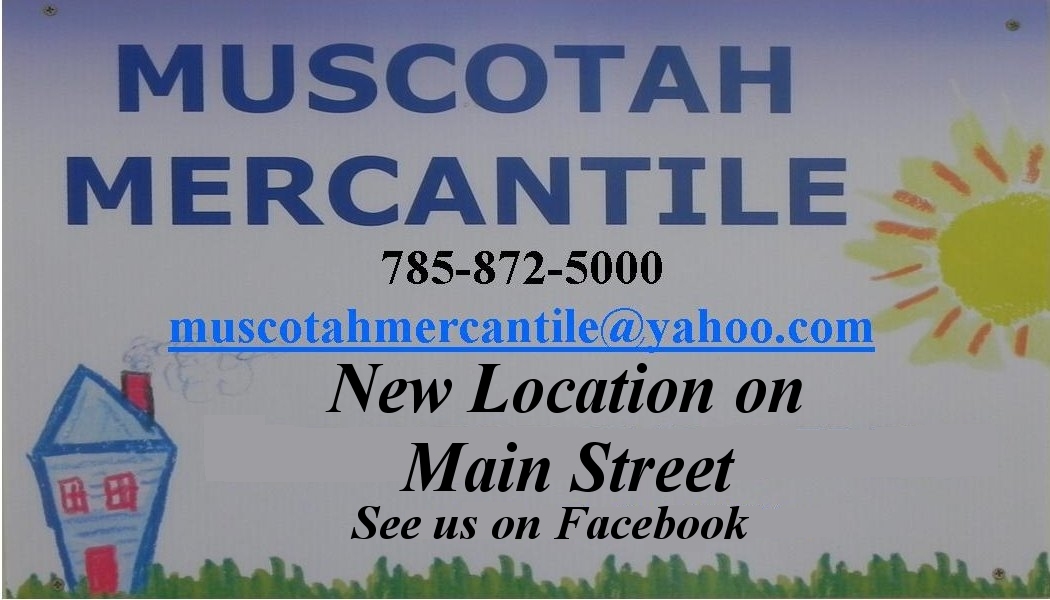 *Counselor Updates:
County Counselor Patrick Henderson told the board that he is expecting to get the paperwork for the tax sale file this week. Counselor Henderson discussed the contract for the replacement of the courthouse doors with Riverbluff Architects and expects to have it signed this week.
*Executive Sessions:
Commissioner Bower moved that the Board of County Commissioners recess into executive session at 2:10 pm for consultation with an attorney for the public body which would be deemed privileged in the attorney-client relationship, as allowed by K.S.A. 75-4319(b) (2), and that the purpose of the closed session is to protect confidentiality of the discussion, and that the Board come out of the executive session at 2:40 pm, in the commission room, 1st floor, courthouse. Those present will be: Chairman Noll, Commissioner Bower, Commissioner Pohl and Counselor Henderson. Commissioner Pohl second the motion. Chairman Noll called for a vote, all voted aye, motion carried, 3-0.
There was no action taken during the executive session.
Commissioner Pohl made a recommendation to see a hard copy on other counties timeline for their budget process. He would also like to see some strategic planning within the county. There is also interest in getting a benchmark or template for 8-10 comparable counties to help with employee evaluation, budgets and salaries.
Bills were present to be signed.
Commissioner Bower made a motion to adjourn the meeting at 2:51pm. Commissioner Pohl seconded the motion. Chairman Noll called for a vote, all voted aye. Motion passed 3-0.
Attest: Michelle Phillips, County Clerk
316 CRIME VICTIMS TO RECEIVE SUPPORT
TOPEKA – (January 19, 2018) – The Kansas Crime Victims Compensation Board yesterday awarded financial assistance to 316 victims of violent crime at its January meeting, Kansas Attorney General Derek Schmidt said.
Awards were made in 149 new cases. Additional expenses were paid in 167 previously submitted cases. The awards totaled $216,657.25.
The Division of Crime Victims Compensation in Schmidt's office administers the Crime Victims Compensation program, which was established in 1978 to help victims of violent crime pay for their unexpected expenses such as medical treatment, mental health counseling, lost wages, dependent support and funeral expenses.
The state's three-member Crime Victims Compensation Board determines claims that are eligible for payment and how much money will be awarded to each claimant. Awards are limited to a maximum total amount of $25,000 with limitations of $5,000 for funeral expense, $5,000 for outpatient mental health counseling, $10,000 for inpatient mental health treatment and $1,500 for grief counseling for family survivors of homicide victims.
A portion of assessed court costs and fines, inmate wages, parole fees and restitution paid by convicted offenders provides funding to the program.
For more information about the Crime Victims Compensation Program call (785) 296-2359 or visit the Attorney General's website at www.ag.ks.gov.
Hutchinson Man Ordered To Repay More Than $11,000 For Medicaid Fraud
LYONS – (January 18, 2018) – A Hutchinson man was ordered to repay more than $11,000 to the Kansas Medicaid Program after pleading guilty to Medicaid fraud-related charges, Kansas Attorney General Derek Schmidt said.
Roger Alan Bowling, 60, pleaded guilty in November in Rice County District Court to one felony count of making a false claim to the Medicaid program. Judge Mike Keeley yesterday ordered Bowling to repay $11,126.73 to the Kansas Medicaid Program. Judge Keeley also sentenced Bowling to 36 months probation with an underlying jail sentence of five months. Convictions such as this one may also result in a period during which the defendant is prohibited from being paid wages through a government health care program.
Bowling served as a power of attorney to a dependent adult in a nursing home in Sterling. An investigation revealed that Bowling intentionally executed a scheme to defraud Medicaid by concealing the dependent adult's assets and enrolling them in the Medicaid program to pay for nursing home costs. Bowling ultimately spent the concealed assets on himself. The crimes occurred between June 2013 and April 2014.
Assistant Attorney General Ed Brancart of Schmidt's office prosecuted the case against Bowling.
Jefferson County Man Permanently Banned From Door-Door-Sales In Kansas
TOPEKA – (January 17, 2018) – A Jefferson County man has been permanently banned from door-door sales in Kansas, Attorney General Derek Schmidt said today.
Jason Todack, of Meriden, d/b/a American Made Matters Corp., d/b/a KCONE Corporation, was permanently banned from operating as a door-to-door salesman in the State of Kansas. District Judge Teresa L. Watson approved the consent judgment last week in Shawnee County District Court. Todack was also ordered to pay the attorney general's investigation costs and a civil penalty.
Schmidt accused Todack of making door-to-door sales of Kirby vacuum cleaners in a manner not in compliance with Kansas door-to-door sales laws. The defendant violated the Kansas Consumer Protection Act by failing to notify consumers of their three-day right to cancel the transaction and cashing consumers' checks prior to midnight of the fifth business day.
More tips on staying safe from illegal door-to-door sales are available on the attorney general's consumer protection website at www.InYourCornerKansas.org. A copy of the consent judgment is available at http://bit.ly/2Bb8tXQ.
Topeka Healthcare Company Fined For Failing To Protect Patient And Employee Personal Information
TOPEKA – (January 18, 2018) – A Topeka healthcare company and its owners have been fined for failing to protect patient and employee records, Attorney General Derek Schmidt said.
Pearlie Mae's Compassion and Care LLC, and Ann Marie Kaiser and Jenell Jones, the owners of the company that provides care for disabled consumers, agreed to pay an $8,750 civil penalty for violations of the Wayne Owen Act, which is part of the Kansas Consumer Protection Act. The consent judgment, which was approved last week by District Judge Franklin R. Theis in Shawnee County District Court, also requires the defendants to make changes to their business practices in accordance with state laws and to pay the attorney general's investigation costs.
In June 2017, during the course of assisting the Topeka Police Department in executing a search warrant, special agents of the Kansas Attorney General's office observed patient and employee records containing personal information in Kaiser's home, which also served as one office location for the company. The records were found in open view, unsecured and accessible to anyone in the residence, including persons who had no legitimate business reason to access the personal information in the records. A lawsuit filed by Schmidt in June alleged the defendants failed to implement and maintain reasonable procedures and practices to protect personal information and by failing to take reasonable steps to destroy or arrange for the secure destruction of records containing personal information when the records no longer are to be used.
"Personal information" includes information such as a social security number, driver's license number, financial account number or credit or debit card number that can be misused to commit identity theft or otherwise harm the person whose information is compromised. It also includes any information, such as medical records, for which a security obligation is imposed by federal or state statute. Under Kansas law, businesses that collect the personal information of others have a duty to safeguard it.
A copy of the consent judgment is available at http://bit.ly/2mFCFFl.
Sen. Moran: The World is a Better Place Because of Senator Dole
WASHINGTON – U.S. Senator Jerry Moran (R-Kan.) released the following statement today after participating in the ceremony presenting Senator Bob Dole with the Congressional Gold Medal to honor his service to the nation as a solder, legislator and statesman:
"I firmly believe that a single person can make a difference, and that we change the world one person at a time. This is the mission of public service. No one is a better example of this than my friend and mentor, Senator Bob Dole. His integrity, thoughtfulness and statesmanship serving Kansans have made not only our state but also the world a better place.
"I have long been inspired by Sen. Dole's work feeding the hungry – it is one of the reasons I've worked on global hunger during my time in the Senate and was a co-creator of the Senate Hunger Caucus. I also have the privilege of occupying the same desk Sen. Dole used on the Senate floor during his time here, and each day I am reminded and motivated by his example. I am grateful that we as a nation were able to honor him today by presenting him with the Congressional Gold Medal – the highest civilian honor the United States can bestow."
Items to Note:
· The Bob Dole Congressional Gold Medal Act passed the Senate unanimously in August of last year and was signed into law by President Trump last September.
· Participants in today's ceremony included President Donald Trump, Vice President Mike Pence, House Speaker Paul Ryan (R-WI), Senate Majority Leader Mitch McConnell (R-KY) and additional members of Congress.
Sen. Moran Applauds Progress on Nomination of Holly Lou Teeter
to be Federal District Court Judge for District of Kansas
WASHINGTON – U.S. Senator Jerry Moran (R-Kan.) today applauded the Senate Judiciary Committee's unanimous vote in favor of Ms. Holly Teeter of Lenexa, Kan., to serve as a federal judge for the United States District Court for the District of Kansas. Sen. Moran supported her nomination in 2017, introducing her to the Senate Judiciary Committee for her confirmation hearing and sharing the recommendations of Ms. Teeter's colleagues with Judiciary Committee members.
"Ms. Teeter is exceedingly qualified to serve Kansans as a federal judge," said Sen. Moran. "Her bright legal mind, wide variety of legal experiences and exemplary temperament are widely recognized by her colleagues. The bipartisan support she received from members of the Senate Judiciary Committee during her hearing last year make it clear that she is an exceptional choice. Additionally, the judgeship Ms. Teeter has been nominated for has been vacant for longer than many other seats in the nation, and Kansans are eager to see the role filled. I am pleased my Senate Judiciary Committee colleagues have acted swiftly on her nomination and I hope the full Senate will soon have the chance to confirm Ms. Teeter."
If confirmed by the Senate, Teeter, a University of Kansas School of Law graduate, will join the United States District Court for the District of Kansas with a lifetime appointment. The U.S. District Court for the District of Kansas is a federal trial court that processes civil and criminal cases that come under federal jurisdiction. The District of Kansas covers the full state of Kansas.
MISCELLANEOUS PRESS RELEASES
Kansas FSA January Newsletter
Musings from my Desk ~ David Schemm, State Exec. Director
A New Year has come upon us again! As we make new resolutions, goals, and plans for the year, it is a great time for us to look at the challenges and opportunities that we have in the upcoming year for Agriculture.
As I have been traveling around the State and watching the many challenges that Ag faces—drought, prices—I am also encouraged by the opportunities I see in the younger generations and new technologies that show the resilience of Ag. Coming from a small town that relies on the Ag economy, I have felt that Ag is the backbone of our State. It is also very cool for me to see that FSA is not just here to help producers in challenging times, with low interest loans, ARC and PLC programs, and disaster programs, but FSA is also here to help with opportunities like Farm Storage loans and young farmer programs.
As all of you are committed to make your operations efficient, sustainable, and profitable, we are committed at FSA to be efficient and effective in our agency so that you can succeed in the challenges and opportunities you face this year. Thank you for what you do, and keep on keeping on.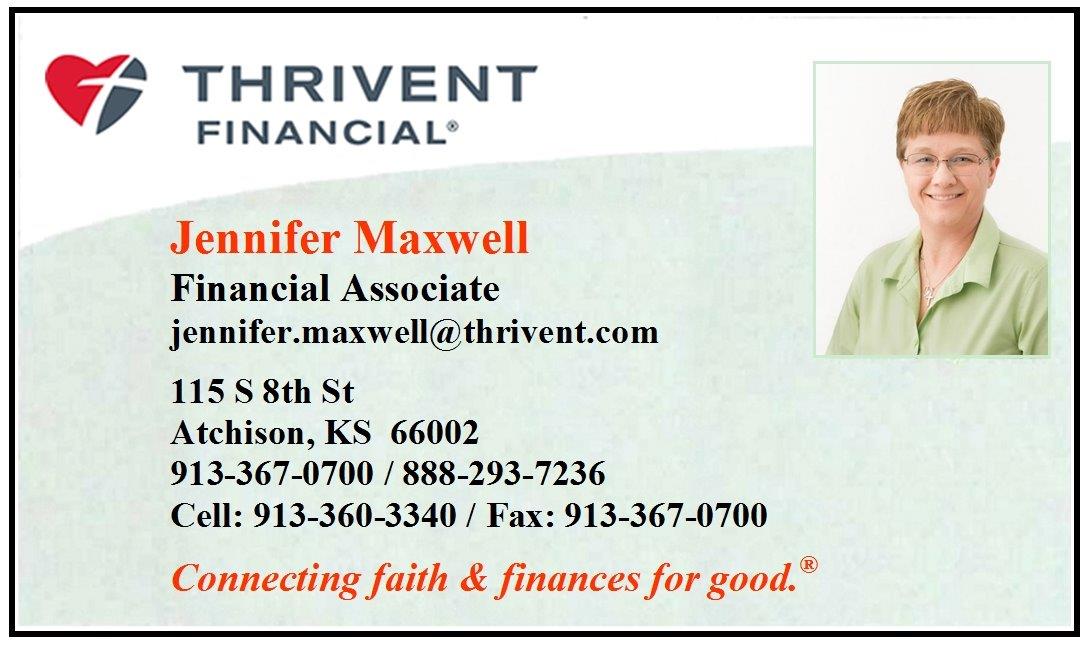 USDA Seeks Grant Applicants
The USDA Rural Development (RD) is accepting applications for grants to help farmers, ranchers and producer-based businesses nationwide develop new product lines.
The funding is being provided through the Value-Added Producer Grant (VAPG) program. VAPG grants can be used to develop new products from raw agricultural products or promote new markets for established products. Veterans, socially-disadvantaged groups, beginning farmers and ranchers, operators of small and medium-sized family farms and ranches and farmer and rancher cooperatives are given special priority.
The deadline to submit paper applications is Jan. 31, 2018. Electronic applications submitted through https://www.grants.gov/ are due Jan. 24, 2018. For more information on this grant program, visit USDA Rural Development.
Perdue Names Appointees to the Kansas USDA FSA State Committee
U. S. Secretary of Agriculture Sonny Perdue recently announced the individuals who will serve on the Kansas Farm Service Agency (FSA) state committee. The state committee is responsible for the oversight of farm programs and county committee operations, resolving appeals from the agriculture community, and helping to keep producers informed about FSA programs.
Each state committee has five members, one chairperson and four members. The individuals appointed to serve on this committee include:
Committee Chair Garrett Love – Gray County
Lexy Goyer – Cowley County
Nicholas Guetterman – Miami/Johnson County
Michael Jordan – Mitchell County
Greg McCurry – Sedgwick County
The Farm Service Agency serves farmers, ranchers and agricultural partners through the delivery of effective, efficient agricultural programs. The agency offers farmers a strong safety net through the administration of farm commodity and disaster programs. FSA continues to conserve natural resources and also provides credit to agricultural producers who are unable to receive private, commercial credit, including special emphasis on beginning, underserved and women farmers and ranchers.
Under the direction of Secretary Sonny Perdue, the USDA will always be facts-based and data-driven, with a decision-making mindset that is customer-focused. Secretary Perdue leads the USDA with four guiding principles: to maximize the ability of American agriculture to create jobs, sell food and fiber, and feed and clothe the world; to prioritize customer service for the taxpayers; to ensure that our food supply is safe and secure; and to maintain good stewardship of the natural resources that provide us with our miraculous bounty. Understanding that we live in a global economy where trade is of top importance, Secretary Perdue has pledged to be an unapologetic advocate for American agriculture.
The Census of Agriculture = Voice, Future, and Opportunity
In December farmers and ranchers across the nation received the 2017 Census of Agriculture. Producers can mail in their completed census form, or respond online via the improved web questionnaire. The online questionnaire has been revised extensively to make it more convenient for producers.
Conducted once every five years, the census of agriculture is a complete count of all U.S. farms, ranches, and those who operate them; it is the only source of uniform, comprehensive, and impartial agriculture data for every state and county in the nation.
Farmers and ranchers, trade associations, government, extension educators, researchers, and many others rely on census of agriculture data when making decisions that shape American agriculture – from creating and funding farm programs to boosting services for communities and the industry. The census of agriculture is a producer's voice, future, and opportunity.
For more information about the 2017 Census of Agriculture, visit www.agcensus.usda.gov or call (800) 727-9540.
Livestock Loss Assistance Requires Prompt Reporting
The Livestock Indemnity Program (LIP) provides assistance to eligible producers for livestock death losses in excess of normal mortality due to adverse weather and attacks by animals reintroduced into the wild by the federal government or protected by federal law. LIP compensates livestock owners and contract growers for livestock death losses in excess of normal mortality due to adverse weather, including losses due to hurricanes, floods, blizzards, wildfires, extreme heat or extreme cold.
Eligible losses are recorded and compensated by calendar year. The 2018 loss year begins January 1, and ends December 31, 2018. Losses due to adverse weather events through December must occur no later than 60 calendar days from the ending date of the event. A notice of loss must be filed with FSA within 30 days of when the loss of livestock is apparent.
Participants must file a complete application for payment and provide the following supporting documentation to their local FSA office no later than 90 calendar days after the end of the calendar year in which the eligible loss condition occurred.
Proof of death documentation
Copy of growers contracts
Proof of normal mortality documentation
Kansas FSA State Committee has established Kansas normal mortality rates for each type and weight range of eligible livestock, i.e. Adult Beef Cow = 1.1% and Non-Adult Beef Cattle (less than 400 pounds) = 2.7%. These established percentages reflect losses that are considered expected or typical under "normal" conditions.
Additional Information about LIP is available at your local FSA office or online at: www.fsa.usda.gov.
USDA Offers Targeted Farm Loan Funding for Underserved Groups and Beginning Farmers
The USDA Farm Service Agency (FSA) reminds producers that FSA offers targeted farm ownership and farm operating loans to assist underserved applicants as well as beginning farmers and ranchers.
USDA defines underserved applicants as a group whose members have been subjected to racial, ethnic, or gender prejudice because of their identity as members of the group without regard to their individual qualities. For farm loan program purposes, targeted underserved groups are women, African Americans, American Indians and Alaskan Natives, Hispanics and Asians and Pacific Islanders.
Underserved or beginning farmers and ranchers who cannot obtain commercial credit from a bank can apply for either FSA direct loans or guaranteed loans. Direct loans are made to applicants by FSA. Guaranteed loans are made by lending institutions who arrange for FSA to guarantee the loan. FSA can guarantee up to 95 percent of the loss of principal and interest on a loan. The FSA guarantee allows lenders to make agricultural credit available to producers who do not meet the lender's normal underwriting criteria.
The direct and guaranteed loan program provides for two types of loans: farm ownership loans and farm operating loans. In addition to customary farm operating and ownership loans, FSA now offers Microloans through the direct loan program. The focus of Microloans is on the financing needs of small, beginning farmer, niche and non-traditional farm operations. Microloans are available for both ownership and operating finance needs. To learn more about microloans, visit www.fsa.usda.gov/microloans.
To qualify as a beginning producer, the individual or entity must meet the eligibility requirements outlined for direct or guaranteed loans. Additionally, individuals and all entity members must have operated a farm for less than 10 years. Applicants must materially or substantially participate in the operation.
For more information on FSA's farm loan programs and targeted underserved and beginning farmer guidelines, visit www.fsa.usda.gov/farmloans.
Enrollment Happening Now for 2018 ARC/PLC
Participation Requires Protection from Erosion and Noxious Weeds
Farmers and ranchers with base acres in the Agriculture Risk Coverage (ARC) or Price Loss Coverage (PLC) safety net program may enroll now for the 2018 crop year. The enrollment period will end on Aug. 1, 2018.
Because shares and ownership of a farm can change year-to-year, producers must enroll by signing a contract each program year.
The producers on a farm that are not enrolled for the 2018 enrollment period will not be eligible for financial assistance from the ARC or PLC programs for the 2018 crop should crop prices or farm revenues fall below the historical price or revenue benchmarks established by the program. Producers who made their elections in previous years must still enroll during the 2018 enrollment period.
The ARC and PLC programs were authorized by the 2014 Farm Bill and offer a safety net to agricultural producers when there is a substantial drop in prices or revenues for covered commodities. Covered commodities include barley, canola, large and small chickpeas, corn, crambe, flaxseed, grain sorghum, lentils, mustard seed, oats, peanuts, dry peas, rapeseed, long grain rice, medium grain rice (which includes short grain and sweet rice), safflower seed, sesame, soybeans, sunflower seed and wheat. Upland cotton is no longer a covered commodity. For more details regarding these programs, go to www.fsa.usda.gov/arc-plc.
Producers enrolled in the Agriculture Risk Coverage (ARC) or Price Loss Coverage (PLC) programs must protect all cropland and noncropland acres on the farm from wind and water erosion and noxious weeds. Producers who sign ARC county or individual contracts and PLC contracts agree to effectively control noxious weeds on the farm according to sound agricultural practices. If a producer fails to take necessary actions to correct a maintenance problem on a farm that is enrolled in ARC or PLC, the County Committee may elect to terminate the contract for the program year.
For more information, producers are encouraged to visit their local FSA office.
Transition Expiring CRP Land to Beginning, Veteran or Underserved Farmers and Ranchers
Retired or retiring landowners or operators are encouraged to transition their Conservation Reserve Program (CRP) acres to beginning, veteran or underserved farmers or ranchers through the Transition Incentives Program (TIP). TIP provides annual rental payments to the retiring farmer for up to two additional years after the CRP contract expires, provided the transition is not to a family member.
Enrollment in TIP is on a con­tinuous basis. Beginning, veteran or underserved farmers and ranchers and retiring CRP participants may enroll in TIP beginning one year before the expiration date of the CRP contract or Aug. 15. For example, if a CRP contract is scheduled to expire on Sept. 30, 2018, the land may be offered for en­rollment in TIP beginning Oct. 1, 2017, through Aug. 15, 2018. The Aug. 15 deadline allows the Natural Resources Conservation Service (NRCS) time to complete the TIP sustainable grazing or crop production conservation plans. The TIP application must be submitted prior to completing the lease or sale of the affected lands.
New landowners or renters must return the land to production using sustainable grazing or farming methods.
For more information on TIP, visit https://www.fsa.usda.gov/conservation.
Document the Drought: USDA U.S. Drought Monitor Offers Producers a Voice to Report Drought Impacts
The USDA, in partnership with the National Oceanic and Atmospheric Administration and the University of Nebraska in Lincoln, produced the U.S. Drought Monitor to include a reporting feature that allows producers to report local drought impacts and conditions.
The report allows producers to:
Provide a written description of drought impacts on livelihood, activities, etc.;
Select categories to show losses and gains as a result of the drought;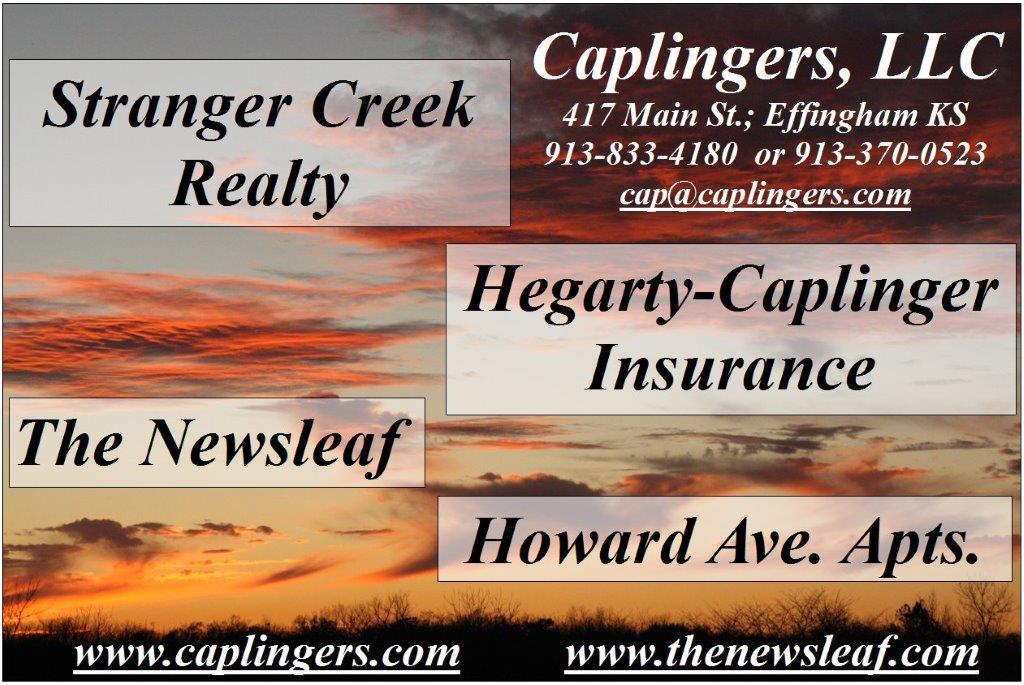 Report on the duration of drought event;
Select Affected Places – geographic areas ranging from an entire state to a small area within a state;
Submit images that document the drought and its impact;
Provide contact information (includes an option to keep information confidential).
The reporting tool for producers to record the effects of the drought can be accessed at the following link: http://droughtreporter.unl.edu/submitreport/
More information including state specific drought impact maps can be found on the U. S. Drought Monitor homepage: http://droughtmonitor.unl.edu/Home.aspx
From the Land of Kansas 40th Anniversary Celebration
MANHATTAN, Kan. — From the Land of Kansas, the state's agricultural trademark program, is celebrating its 40th anniversary in 2018. The program will kick off its celebration at the Kansas State Capitol on Tuesday, January 30, from 10:00 a.m. to 2:00 p.m. Members of the From the Land of Kansas program will be offering samples of their products and showcasing their businesses. In addition, Governor Sam Brownback has proclaimed January as From the Land of Kansas month.
The trademark program began in 1978 within the state's agriculture agency, now the Kansas Department of Agriculture, and was designed to promote and celebrate agriculture experiences and products grown, raised or produced in Kansas. Since its inception, the program has grown to include 374 businesses across the state, as well as 85 retail partners where Kansas products can be purchased. These businesses span the breadth of the agriculture industry, from restaurants, agriculture equipment manufacturers, farmers and ranchers, to food processors, agritourism, wineries, breweries and distilleries.
Chef Alli of Alli's Farm Fresh Kitchen in Mayetta is the program's brand ambassador. Over the years, the trademark program has also worked with Kansas natives Jordy Nelson, renowned wide receiver for the Green Bay Packers, and the Peterson Farm Brothers to promote Kansas products and businesses.
"Throughout the life of Kansas' trademark program, it has transformed to meet the needs of Kansas businesses," said Janelle Dobbins, marketing manager for From the Land of Kansas. "We strive to provide support and assistance to help Kansas businesses grow, which keeps money in Kansas communities, building stronger businesses and local economies."
The From the Land of Kansas program supports the KDA mission to serve Kansas farmers, ranchers, agribusinesses and consumers by providing agribusiness marketing opportunities to participating local businesses, and allowing consumers to identify and choose to support products that contain Kansas ingredients or items processed in Kansas.
The program's logo makes it easier for consumers to find Kansas-made products and Kansas-based businesses. From the Land of Kansas also hosts an e-commerce website, shop.fromthelandofkansas.com, where trademark program members can sell their products online, reaching more customers across the state of Kansas and the U.S.
Kansas Soybean Expo '18 Includes Laughter, Learning, Laurels
About 225 soybean enthusiasts gathered Jan. 10 in Topeka for Kansas Soybean Expo 2018. The Kansas Soybean Association (KSA) organized the annual event, with checkoff funding from the Kansas Soybean Commission (KSC), to coincide with the Topeka Farm Show at the Kansas Expocentre.
"We were really excited to have so many farmers and friends of the industry join us in Topeka," said KSA Second Vice President Teresa Brandenburg, Osborne, who chaired the Expo planning committee. "It was a great day to network and advance the association's and commission's commitments to producer education."
KSA President Lucas Heinen, Everest, and KSC Chairman Kurt Maurath, Oakley, welcomed the attendees. The opening session featured updates from checkoff-partner organizations. The presenters were Jennifer Geck Ott, director of allied industry relations for the USA Poultry and Egg Export Council, and Kevin Roepke, regional director for the Americas at the U.S. Soybean Export Council.
The keynote speaker, farm-boy-turned-comedian Roger Radley, entertained the audience with his wit, humor and stories about growing up on a Wisconsin farm and how we raise kids today.
"Roger was very entertaining, and you never knew what direction he was headed with the next line," said Charles Atkinson, Great Bend, KSA's representative on the American Soybean Association (ASA) board of directors and a member of the Expo planning committee. "His presentation was a great reminder that if you can't look in the mirror and get a good laugh to laugh with somebody else."
John Jenkinson, Lakin, a farm broadcaster for KSN News and markets editor-anchor for RFD-TV and Rural Radio on Sirius XM, was the master of ceremonies at the luncheon. The featured speaker was Donnell Rehagen, CEO of the National Biodiesel Board (NBB). He emphasized how the soybean checkoff always has ensured the biodiesel industry could support its technological development and marketing projects with the proper research. He also complemented the national and state soybean associations for advocating federal policies to help make biodiesel competitive in the marketplace.
To open the awards and recognitions, Brett Neibling, Highland, and Brandon Geiger, Denton, who represented Kansas in the 2017 DuPont Young Leader program, introduced and congratulated Kim and Kevin Kohls, Moundridge, and Jared Nash,
Parsons, as 2018 young leaders. Heinen then recognized Marvin Wahl, Oswego, for being KSA's top recruiter in 2017.
The Friend of Soy award went to Harold Kraus, Hays. He served on KSC from 1999 to 2011 and was its first representative to NBB, serving there from 2001 to 2013. When he started, biodiesel was in its infancy, and it was a billion-gallon industry by the time he retired. His dedication to developing biodiesel helped make it America's first domestically produced, commercially available advanced biofuel, and NBB gave him the Friend of Biodiesel Award in 2013.
Kraus earned a business degree from the University of Kansas in 1955 then served as a Navy aviator. He and his wife, Virginia, have six children and farm in Ellis County, where he was a county commissioner for 16 years. They continue to host an agriculture day for about 300 students and teachers every year.
Heinen recognized past president Terry Reschke, Hiawatha, for retiring from the KSA board of directors a year ago, after 15 years of service. Maurath thanked Craig Gigstad, Valley Falls, for representing Kansas on the United Soybean Board from 2011 to 2017.
Next, Heinen presided over the KSA annual meeting. Atkinson outlined ASA's policy successes in 2017 and priorities for 2018. First Vice President Dwight Meyer, Hiawatha, who chairs KSA's policy committee, presented the guiding resolutions for 2018, which the voting members present accepted. The board elections resulted in Kregg Rennie, Columbus, and Gary Robbins, Emmett, returning as the directors for districts 4 and 5, respectively, and Brandenburg (Osborne) continuing as a director-at-large.
After adjournment, the KSA directors met and re-elected their officers for the coming year: Heinen (Everest), president; Meyer (Hiawatha), first vice president; Brandenburg (Osborne), second vice president; Doug Shoup, Parsons, secretary; and Robbins (Emmett), treasurer. Past president Raylen Phelon, Melvern, will continue as chairman.
Shoup, who coordinates the Kansas Soybean Yield and Value Contests, then announced the district and overall winners. Meier Farms, Rexford, topped the irrigated division with 100.67 bushels per acre - the first entry ever to document more than 100 bushels. Kenny Wilson, Horton, led the dryland division with 93.34 bushels per acre. Geiger (Denton) won the value contest with 97.8 cents per bushel of increased value (10.7 percent over the $9.68 cash price). Complete results and award photos will be available via http://KansasSoybeans.org/contests on the web.
Participants then heard three K-State Research and Extension updates. Ignacio Ciampitti, Ph.D., crop-production specialist, led "Increasing Yields Through Improved Management." Dallas Peterson, Ph.D., weed scientist, offered "The Dicamba Conundrum." Entomologists Brian McCornack, Ph.D., and Mike Smith, Ph.D., presented "An Integrated Approach to Managing Dectes Stem Borer in Kansas."
Expo photos and presentations soon will be available via http://KansasSoybeans.org/expo on the web.
Save the Dates! Kansas Rural Center to Host Five Specialty Crop Workshops in March 2018
Topeka, KS – The Kansas Rural Center (KRC) will host five specialty crop workshops during March to provide information and education necessary for beginning specialty crop growers to establish a successful specialty crop enterprise in Kansas. The workshops will focus on conservation, production and marketing practices for specialty crop growers, and will provide an excellent opportunity for beginning growers to connect with and learn from experienced growers.
The workshops are part of KRC's "Linking Experienced and Beginning Kansas Specialty Crop Farmers to Share Information for Establishing Successful Specialty Crop Enterprises Project," which was funded last fall by the Kansas Department of Agriculture through the USDA Specialty Crop Block Grant program. KRC is one of five projects approved in Kansas. The aim of KRC's project is to link experienced and beginning specialty crop farmers and provide information and networking opportunities to help beginning farmers lower production costs, increase profitability, and create successful specialty crop enterprises in Kansas.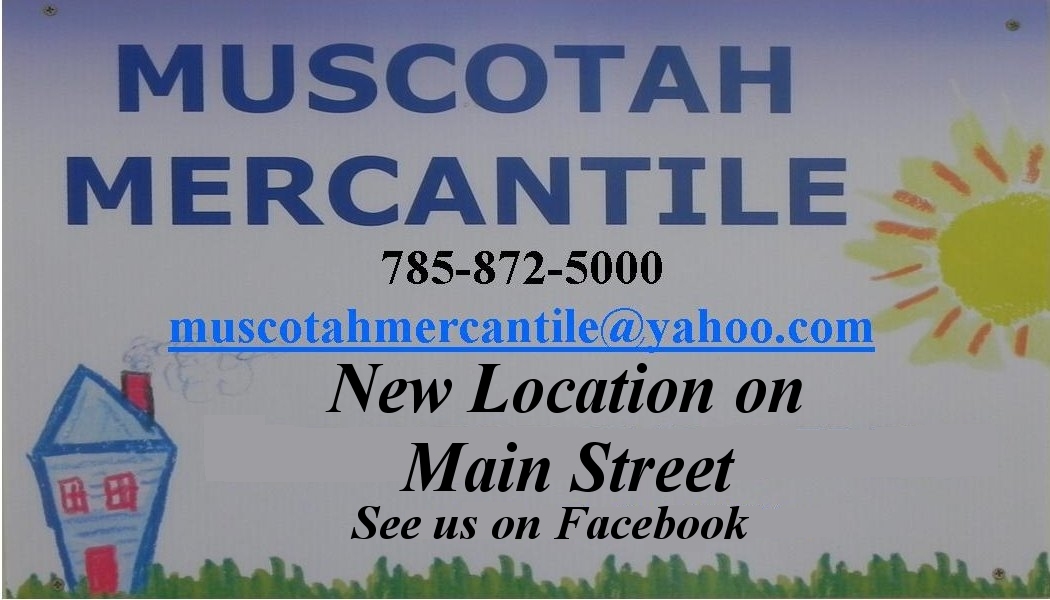 More information and registration details will be available later, but the workshops will be held:
Saturday, March 3, in Scandia
Friday, March 9, in Leavenworth
Tuesday, March 20, in South Hutchinson
Wednesday, March 21, in Dighton
Saturday, March 31, in Erie.
Experienced specialty crop growers and experts from partnering institutions and agencies will provide information on conservation practices and soil health, high tunnel construction and management, cold storage, marketing strategies, and basic economics of specialty crops. Conservation and management practices (such as cover crops, crop rotations, pest and weed management strategies, beneficial insects, etc.) can dramatically impact the bottom line of farms through improving system productivity and profitability. Better understanding of the costs and benefits of these practices and the potential revenues from key vegetables and fruits well-suited to Kansas can help specialty crop farmers succeed.
In addition to providing valuable information education, the workshops will offer beginning farmers the chance to connect with experienced growers to provide for continued access to information and advice.
Detailed agendas of each workshop will be posted on the KRC website soon.
In addition to the regional workshops, KRC will work with beginning specialty crop growers to pair them with experienced specialty crop growers to facilitate farmer to farmer transfer of knowledge and information. KRC will facilitate a learning circle meeting of ten farmers to determine further educational
and resource needs , to share information, and to serve as case study subjects for farm profiles for publication statewide.
To learn more about the workshops, please contact David Coltrain at 620-330-3951 or coltraindavid@gmail.com, or email info@kansasruralcenter.org. For questions about the project as a whole, please contact Mary Fund at mfund@kansasruralcenter.org or 866-579-5469.
The mission of KRC, a non-profit research, education and advocacy organization founded in 1979, is to promote the long-term health of the land and its people through research, education and advocacy that advance an economically viable, ecologically sound, and socially just food and farming system. For more information, visit www.kansasruralcenter.org.
WILDLIFE AND PARKS REPORTS
Donate a Portion of Your Tax Return To Help Kansas Wildlife
PRATT – Nearly 99 percent of Kansas' wildlife are designated as nongame species, or species that are not trapped, fished or hunted. While revenue from the sale of hunting and fishing licenses fund management practices that benefit all wildlife, funding aimed specifically at nongame species is needed. The Kansas Nongame Wildlife Improvement Program, also known as Chickadee Checkoff, provides individuals with the opportunity to support nongame species through tax-deductible donations. Money collected from these donations goes directly to a variety of nongame wildlife research, habitat enhancements/restorations, and educational projects.
Consider making a contribution this tax season by marking the Chickadee Checkoff box on your state income tax form (line 36 on K40 form) and designate the amount you would like to donate. There is no minimum or incremental requirement. Donations can also be made directly to the Kansas Department of Wildlife, Parks and Tourism (KDWPT) by addressing the donation to Chickadee Checkoff c/o KDWPT 512 SE 25th Ave, Pratt, KS 67124.
Private donations are crucial to managing these vital species since Chickadee Checkoff proceeds are matched by federal funds. Contributions have been steadily decreasing in recent years, making it imperative that Kansans mark the Chickadee Checkoff box this year.
For more information, visit www.ksoutdoors.com/Services/Wildlife-Diversity/Chickadee-Checkoff.
Take an active part in managing and conserving Kansas' diverse wildlife for future generations. Check the chickadee.
Pheasants Forever, Quail Forever To Host State Convention
PRATT – Habitat management, R3 (Recruitment, Retention and Reactivation) efforts, pollinators, shooting sports teams, hunter safety and more will be hot topics of the upcoming Pheasants Forever and Quail Forever Kansas State Convention. The annual two-day event, which is open to the public, will take place February 2-3 at the Atrium Hotel and Conference Center in Hutchinson.
Event attendees can get discounted lodging at the Atrium Hotel by calling (620) 669-9311 and asking for the "Pheasants/Quail Forever" room block rate.
For more information, and to purchase event tickets, visit pheasantsforeverevents.org/event/3203, or contact Chris Blackledge at cblackledge@pheasantsforever.org or (620) 767-2121.
Conservation Groups Draw Commissioner Big Game Permits
PRATT – At the Jan. 11 Kansas Wildlife, Parks and Tourism (KWPT) Commission meeting in Milford, seven lucky conservation organizations drew Commissioner Big Game Permits as part of a unique program that raises funding for conservation. The Commission Big Game Permit program allows local chapters of nonprofit organizations based or operating in Kansas that actively promote wildlife conservation and the hunting and fishing heritage to apply for big game permits. Once drawn, organizations can then sell the permits to raise funds.
The following organizations were drawn for 2018 Commission Big Game Permits:
Deer (6):
National Wild Turkey Federation (NWTF) – Dickinson County Beard Busters, Hope
NWTF – Ford County, Dodge City
NWTF – Golden Plains, Ellinwood
Friends of NRA - Heartland No. KS-1 Chapter
Ducks Unlimited – Atchison Chapter No. 2
Pheasants Forever – Waconda Ringnecks Chapter No. 586
Elk (1):
Rocky Mountain Elk Foundation – Greater Kansas City Chapter
The Commission Big Game Permit program began in 2006, and since that first year, nearly $500,000 has been raised. Seven permits, one elk, one antelope or up to seven deer, are issued each year, depending on applicant preference. Winning groups are issued a voucher, which they can sell or auction to the highest bidder. The cost of the permit and 15 percent of the total price is subtracted and kept by the group, and the rest is remitted to KDWPT with a proposal for a conservation project. Once the project is approved, the money is returned to the group to complete the project. An exception to this procedure would occur if Kansas Hunters Feeding the Hungry (KHFH) is drawn. In that case, KHFH keeps 85 percent of the funds to help pay for processing donated deer.
Following the drawing, the Commission heard Secretary's Orders on Free Park Entrance and Free Fishing Days – which will be promoted at a later date – and voted on regulations covering threatened and endangered species special permits, enforcement actions, and recovery plan procedures. A video recording of the meeting can be downloaded at ksoutdoors.com/KDWPT-Info/Commission/Upcoming-Commission-Meetings.
The next KWPT Commission meeting is scheduled for March 22, 2018 at the Kansas Historical Society in Topeka.
For more information on the Commission Big Game Permit program, visit ksoutdoors.com/KDWPT-Info/Commission or contact the Commission secretary at (620) 672-5911.
HISTORY IS FUN ~ Robert & Helen Caplinger
Old news from the 1895 Issues of Effingham New Leaf
SURPRISE FOR THE PEOPLE. "When the Effingham Military Band appeared in full uniform Decoration Day, it was a genuine surprise to our people and all were much pleased. To procure these suits, the Band did not ask for any help, but went down into their jeans and bought them. The band is in keeping with our city, progressive, and furnishes better music than most large city bands. Let us as citizens, show them some appreciation by giving them a benefit of some kind. They deserve it. THE NEW LEAF man knew about these new uniforms for some time, and it nearly breaks a puckering string for a newspaper man not to tell what he knows, but we didn't."
EDITOR CHECKS OUT NEW B. F. WALLACK HOME. "We had the pleasure one day this week of viewing the new home of B. F. Wallack from cellar to garret. The inside arrangement is not only for beauty but convenience, something that in modern house building is too often neglected. Closets, china closets, sinks, etc., are all arranged to save unnecessary work. The entire house, with the exception of parlor, sitting and dining room, is finished in hard pine. The parlor is California red wood. Dining and sitting room are grained on soft pine and is the finest work of the kind we have ever seen. This work was done by W. I. Young of Nortonville. Mr. Wallack speaks in the highest terms of all the workmen, saying everything was entirely satisfactory. The system of hot and cold water is the most convenient thing about this model new place. Besides the usual bath, wash basins and sinks, a stream of water can be thrown all over the lawn or house from the hydrant in the front yard. The pressure is compressed air. Mrs. Wallack says she counted 150 houses from the front window up stairs one day, and before Mr. Ellsworth's house went up, could see Nortonville plainly. The greater part of the work on this model home was done by home men. Geo. Snyder drew the plans, Trompeter and Davis had the carpenter work and C. W. Benning the brick work. In building this place, Mr. Wallack has shown his firm belief in the future prosperity of Effingham. May others follow his example and invest their money where they made it."
BUILDING NEW COURT HOUSE. "The county commissioners have decided to build a new court house with cost not to exceed $80,000. Plans to be submitted to them July 3rd. This is a public improvement long needed and the folks hereabout are heartily in favor of the improvement."
MEMORIAL DAY PROGRAM. "The procession will form at Stetler's grove at 1 o'clock sharp, headed by the Effingham Military Band under the direction of J E. Logan, Marshall, G.A.R. following next to band, high school students, carrying flags, in rear of G.A.R. followed by public school scholars, also carrying flags. Then the citizens in general will follow in the rear of the public school scholars. The band will play appropriate selections on the march to the cemetery. At the cemetery the usual G.A.R. services will be held, the band playing the dirge at the cemetery. After the exercises at the cemetery are concluded, the procession will return to Stetler's grove where the more exercises will be performed."
HOWARD CAME TO TOWN. "Howard, of poor house fame, arrived in town from Atchison Tuesday, and in a drunken condition. At Moore & Preston's office he caused some trouble, then went across the street to Wolf's bakery where he lay down on the bench and proposed to stay for the night. Marshall Green put him in the calaboose for rest where he slept off his jag. Wednesday morning, he was escorted out of the city under penalty of sentence to the street gang and told to go. He went. Howard was fired out of Atchison on Monday for drunkenness. He is the man who caused the trouble between Poor Farm Wilson and his wife, and should be in the pen instead of at large."
ACHS 1895 Alumni Meeting. "Last Friday night, the Alumni of the high school banqueted the graduates of '95. A number of neat speeches and responses were made. It was a happy reunion.
"A business meeting was held at the close and Emmett R. Wilson '95, was chosen as President, and Otho Hastings, '93, as treasurer. Quite an honor. There are 64 alumnis of the school now. We're getting old."
BEES IN THE PARK. "A swarm of bees lit on a tree in the city park last week, and E. W. Benjamin got a cracker box and put them in, hiving them a few days later. They have gone to work now and Mr. Benjamin will now have his own honey.
WORD CAME FROM COL. TALIAFERRO IN BIRNEY, MONTANA. "I arrived here in due time and found my friends all well and in good spirits over the prospects of a fine grass crop and fine cattle next fall. The people here are all for free silver regardless of party, and express themselves freely in favor of those who advocate this principle. They are tired of supporting the old parties and drawing no benefit from then.
"The round up started on the 5th of June and now the cowboys will have to do good riding as the horses are fat and ready to buck. Even my old horse had to hump his back and make a few jumps, showing he still remembered his round up days. Give my regards to all my friends."
A GOOD MODEL FOR ALL. "There have been so many marriages recorded this year, that a base line, grade, or model of perfection for their guidance is not out of place. We will take for our model, H. C. Snyder and his estimable wife.
"Mr. Snyder is 63 years old, and his wife is 59 years. They have lived in Atchison county 27 years, and of course are both hale and hearty, being farmers in occupation. To them 11 children have been born, all of whom are living, no deaths ever having occurred in the family.
"All the children live in and close to Effingham. The oldest is 40 years and the youngest 15 years. Several of them are married, and 17 grandchildren is the result. Five of Mr. Snyder's children were born in October. All of them are good citizens and among our most honored residents. We are aiming to build a city. Increase does it. As a sample here is Mr. Snyder and wife, who after 27 years number 36 souls, and is a fine model for our new married people."
A NEW CHURCH ORGANIZATION. "Last Sabbath the Disciples of Christ formed a church organization with a membership of 32, and elected a board of managers as follows: Z. S. Hastings, J. W. Jones, J. W. Wilson, John Shell, Madams Hastings, Pettit and Gregory. This means a neat new church for Effingham before many months. Say we don't grow in numbers, buildings, educationally and religiously. All good points."
UPGRADED BARBER SHOP. "Geo. Hilton intends to make a number of valuable improvements in his barber shop. He will put in the third chair, and Saturday an expert barber from Lawrence will be regularly employed. His bath room is clean and you can get a hot or cold bath. When you want to be cleaned up and fixed properly, Luther Stewart's shop is the place to go."
ONE MORNING'S WORK. "To show what a hustler can do in Effingham. B. F. Wallack went out and fixed Geo. McAdams binder, sold Tom Brown a new binder and Geo. McKay a wagon load of furniture, and all before 9 o'clock Wednesday morning. Effingham is a hot fruit."
EFFINGHAM CHEESE. "The first month the cheese factory had 10 patrons; second month 22; third month 26. This can be made an important feature to the city's prosperity. Always call for Effingham cheese when you buy."
CLASSIFIED ADS
DO YOU WANT YOUR ISSUE OF THE NEWSLEAF MAILED TO YOUR HOME OR BUSINESS? SUBSCRIPTIONS ARE NOW AVAILABLE AT THE RATE OF $42.00 FOR 1 YEAR. To subscribe send your check to: The Newsleaf; PO Box 209; Effingham, Ks.
Exchange Bank & Trust is looking for outstanding individuals who want a rewarding career in the financial services industry. We encourage employee communication and promote within whenever possible. Opportunity awaits those who pride themselves for their honesty, integrity and ethical behavior. We offer a friendly work environment, competitive pay, and a comprehensive benefits package, including insurance and vacation pay.
Apply at Exchange Bank & Trust; 600 Commercial Street; Atchison, KS 66002. We are an Equal Opportunity Employer
"GUESS WHO"
Can you identify the person(s)/place/year in the photo this week? Last issue was a photo of Main St. Everest.
LAST WEEK
Problems with this web site contact cap@thenewsleaf.com Last updated 1-23-2018
<![if !vml]>
<![endif]>